Blink 182's Enema of the State: 15 Years Later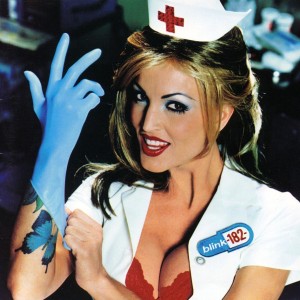 In 1999, it was two years after San Diego band Blink 182 released their first big album Dude Ranch, which gave them moderate fame due to the success of the single "Damnit." The band was on their way to success by playing larger venues, having more interviews, and having more people recognize their music. Inside the band however, tensions were rising. Scott Raynor, the bands current drummer had expressed his desire to go to college many times over the past several years, in addition to having an alcohol problem. When the problem grew so intense that Tom Delonge, the bands guitarist and lead vocalist, and bassist Mark Hoppus could no longer handle Raynor's growing problems as well as his longing to continue his education, they decided to fire Raynor.
They enlisted Travis Barker, the former drummer of southern California rock band The Aquabats to take over drumming duties while the band finished the tour. After the bands first show with Barker, Tom and Mark were so impressed with Travis that they decided to keep him on as their permanent drummer. By the end of1998, the band was ready to record a new album. Enema of the State, released on June 1'st, 1999, would give Blink 182 instant fame, and would ultimately be the groups most well known and memorable album. For the lyrical content the band relied on personal experiences and those of their friends to write songs about sexual frustration and finding a girl you can train ("Dumpweed"), "Aliens Exist", which was inspired by Tom's fascination with aliens and conspiracy theories, and lastly, how much it sucks when you graduate high school and head off to college ("Going Away To College.") Even though the members themselves were in their late 20's at the time of Enema's… release, it felt like the band were the same age as many of their adolescent fans, since the bands lack of maturity felt like they had never made it out of junior high, leading them to be able to write songs that were instantly relatable. Entertainment Weekly went onto to describe the record as the "perfect encapsulation of the American adolescent male mind-set circa 1999." The interesting thing about Enema of the State was how the track listing was structured. While the record kicks off with the explosive "Dumpweed", the band really makes listeners sit back and wait for the best songs. "All The Small Things" comes in at number five, with "Adam's Song" following at number seven. Both songs became singles, with "All The Small Things" taking on Blink's more funny side, once again writing songs about their girlfriends. "Adam's Song" on the other hand was much more serious. Having Mark take over vocals makes the song seem slightly more striking, and gave the band a chance to prove that they were much more than a party band. Other "deep cuts" such as "Wendy Clear" and "The Party Song" not only show off the bands silly attitude but their knack for writing songs that shows why pop punk became so popular. It was punk for the kids who didn't fit in with the hardcore punk scene, while still being attracted to the genre's fast and brutal core, while still hearing the pop music that had dominated the radio for much of the 90's.
Enlisting well known producer Jerry Finn to help produce the record, the album came out sounding much more polished than previous records, and lead many of the bands long time fans to accuse the group of "selling out", and making music for the money and not because they loved it, and possibly the most important accusation, making music that only slightly resembled the punk music that the band was making previously. Ultimately the band wasn't sorry about the record they had put out, with Delonge saying that he "felt that it was more punk to piss people off, than to conform" about what punk was supposed to be. Enema of the State would go on to sell fourteen million copies and inspire thousands of adolescents to pick up a guitar. Bands like New Found Glory, The Maine, and Fall Out Boy would go on to start bands because of the records influence. Much like Green Day when they released Dookie in 1994, Blink 182 had inspired many bands to start groups of their own, but without receiving as much credit or backlash.
While Enema of the State would be only one of two albums that the band would release with that sound, it would cement Blink 182 as one of the best pop punk bands ever formed. Fifteen years later, it still holds up as a solid album, while letting fans take a trip back to their adolescence.
Zach Sobiech: One Year Later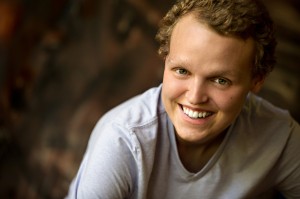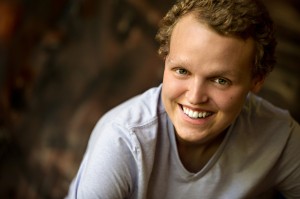 One year ago today on May 20th, 2013 Zach Sobiech of Stillwater, Minnesota passed away at the age of eighteen from osteosarcoma, a rare bone cancer that is most common among young children and teenagers, though it can also show up in adults. Osteosarcoma usually develops in areas where the bone is growing quickly, usually in the longer bones. Tumors can also surface in the jaw, shoulder, pelvis, and the knee. The disease has a 30% chance of survival. Zach Sobiech was the writer behind the viral song "Clouds", a song about family, faith, hope, and life. While the song would make those who listened to it incredibly sad, especially knowing that Zach's time was limited, it was also a song that inspired hope. Zach was diagnosed at age fourteen, after he complained that his hip was hurting after going on a run with his older sister Alli, right before the start of his freshman year of high school. After years of many chemo therapy treatments and surgeries, Zach had run out of options to treat his illness. While Zach had been playing guitar since age eleven, his mother Laura Sobiech never imagined her son as a songwriter. Once she had Zach play "Clouds" for her, she knew that she wanted to have the song recorded so that family and friends would have something to lean on when Zach was no longer living. Little did she know that the song would go on to become much larger than just something for the Sobiech's loved ones.
The song gained significant airplay on a local radio station in the Twin Cities area, and a video made up of footage from the recording session for "Clouds" was uploaded to Youtube. The song would go viral, inspiring millions around the world to think a little more deeply about their lives, while also inspiring you to have hope in hard times. Aside from the songs inspirational message, supporters of Zach could also watch a twenty-two minute documentary called "My Last Days" a documentary series from Soul Pancake which focuses on people who are dying and what they can teach the living about living their life to the fullest. The series, which is set up to grab viewers by the throat with all of its emotion, features people of all ages and diseases. Everything is raw and unscripted, and you come away with a renewed sense of purpose and hope.
While each video is inspiring in its own right, while also having plenty of views, it is Zach's video that has by far the most. In the opening scene of the video, Zach introduces himself by saying that he is seventeen years old and living with osteosarcoma. He has been told he only has a few months to live, but that he still has a lot of work to do. After emotional interviews with his parents Laura and Rob, siblings Alli, Sam, and Grace, his girlfriend Amy and friend Sammy, we learn about their struggle, and for those of us who have also experienced a loved one dying of cancer, their heartache. By trying to live up to Zach's example of living to the fullest, the end of Zach's life will not be any less painful, but it will be easier knowing that Zach was a light to millions around the globe.
Several weeks ago, Laura released a book titled Fly A Little Higher: How God Answered a Mom's Small Prayer in a Big Way, writing about the long road the Sobiech family faced as they experienced Zach's illness and death. On the day of Zach's funeral, May 23rd, "Clouds" went to number one on iTunes, and a year later Zach Sobiech is still inspiring millions around the world to think about their legacy as well as demonstrating how one can "fly a little higher."
Along with the release of Fly A Little Higher, Justin Baldoni, director of My Last Days has filmed a one year tribute video about how the Sobiech family and friends are coping with Zach's death one year later. You can see that here as well as the original SoulPancake documentary. You can also listen to "Clouds" here.
February 7th, 1964: The Beatles come to America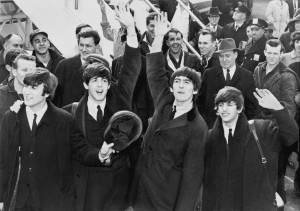 50 years ago today The Beatles came to America. The documentary titled "The Beatles: The First U.S. Visit" provides a glimpse at the pandemonium the band caused.  No band has ever matched The Beatles success, and few bands have come close to their level of fame. While their sound changed over their seven year career, the love and the admiration from their fans never stopped, and it only keeps growing. While the members went on to have successful solo careers, their time as The Beatles is when they produced their best work. As a band, their songs were simple and relatable. The girls loved them, the boys wanted to be in a band, and their parents longed for the days of jazz and Frank Sinatra. While many believed The Beatles to be a flash in the pan, what they were really hearing was a timeless rock band that would continue to inspire musicians decades after their breakup. There will never be another band like The Beatles. Here's to 50 more years of John, Paul, George, and Ringo!
You can watch the documentary The Beatles: The First U.S. Visit on Youtube here.
The Day the Music Died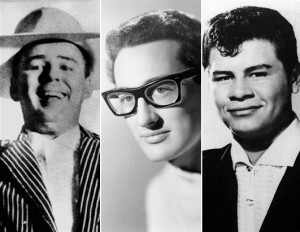 The lyrics to the famous Don McLean song "American Pie", describes McLean's feelings as a young boy upon hearing the news of Buddy Holly's death on the Winter Dance Party tour. The second verse is as follows, "But February made me shiver/With every paper I'd deliver/Bad news on the doorstep/I couldn't take one more step/I can't remember if I cried/When I read about his widowed bride/But something touched me deep inside/The day the music died." The passing of Buddy Holly, Ritchie Valens, and The Big Bopper on February 3rd, 1959 was music's first great tragedy. While Buddy Holly's career was on the wane at the time of his death, the careers of The Big Bopper, a Texas disc jockey, and Ritchie Valens, a seventeen year old California guitarist with two hits under his belt, were just starting to take off. A song called "Chantilly Lace" would become the Bopper's biggest hit, with the Bopper saying the words "hello baby!" in the beginning of the song to provide a hook to the song. In order to promote the song, he had to go on the road. He would leave behind his wife, who was pregnant with his second child, a son, and his five year old daughter Deborah in order to perform on the Winter Dance Party.
Ritchie Valens, born Richard Valenzuela, was born in the Pacoima neighborhood of Los Angeles. Ritchie grew up in poverty, but dreamed of being rock star from an early age. A self taught musician, he was so eager to learn the guitar, he mastered the instrument playing right handed, despite being left handed. He began his career by playing during lunch time at school as a way to entertain his friends. He would get his first taste of stardom when Bob Keane, the owner of a small record label called Del-Fi Records, wanted to sign Ritchie to a record deal at the age of 17, after a classmate of Ritchie's told Keane about Ritchie's popularity as a performer. In 1958, Valens dropped out of high school to focus on his music career. His then girlfriend Donna (who inspired his song "Donna") said that Ritchie was very excited about the Winter Dance Party due to "all of the stars he was going to meet. He was especially excited about meeting Buddy Holly." His most famous hit "La Bamba" introduced America to Mexican culture as he took the traditional folk song and gave it a facelift by turning it into a rock song and singing the song entirely in Spanish.
By 1959, two years after his career began, Buddy Holly was no longer having top hits such as "That'll Be The Day", and "Peggy Sue." Around that time he had broken away from his manager Norman Petty and former band mates Jerry Allison and Joe B. Mauldin as creative and professional differences got in the way of the band and management relationship. Soon after the split, Buddy moved to New York City to spend time with his wife and explore the corporate side of the music business. At the time of his death he had dreams of creating a chain of recording studios with the headquarters being in his hometown of Lubbock, Texas. Though before this dream could come to fruition, Holly would have to go back to performing in order to support his growing family as his wife was two weeks pregnant with their first child. In order to bring in some much needed money he was booked on The Winter Dance Party, a tour of the Midwest playing in 24 cities. Buddy assembled a new band which included Waylon Jennings on bass, Carl Bunch on drums, and Tommy Allsup on guitar.
The tour which was booked by the General Artists Corporation, wanted to fill as many dates as possible, which would ultimately cause logistical problems for travel, as the distance between each venue had not been considered when routing the tour, causing the tour to go 400 miles to one gig, and then going 200 miles back in the opposite direction the next night. The weather did not help either. Due to freezing conditions and an inadequate bus, the bus and heater would break down on many occasions, causing The Big Bopper to come down with the flu, and Buddy's drummer Carl Bunch getting severe frostbite.
The fatal night of the Winter Dance Party, happened on February 3rd, in Clear Lake, Iowa at the Surf Ballroom. February 3rd was a date that was booked at the last minute in order to create as many show dates as possible. Tired, hungry, and disappointed with how the tour was panning out, Holly decided to charter a plane, which would leave at midnight, to their next stop in Minnesota so that The Big Bopper could get some rest and Buddy could do laundry. The best part of the night was of course the show. The Winter Dance Party was the biggest night the small Iowa town had ever experienced and enthusiastic teenagers and their reluctant parents lined up ready and excited for the night that awaited them. After the show, Ritchie who had a fear of flying, asked Tommy Allsup to take his seat on the flight. To decide who would take the seat the two flipped a coin to decide. Ritchie would end up winning the fatal toss. Upon hearing that Waylon would not fly; Buddy jokingly told him "I hope your old bus freezes up." Then Waylon replied "I hope your ol' plane crashes." Waylon would go on to regret that statement for the rest of his life.
The plane that was chartered to fly the performers to the next tour stop was a Beechcraft Bonanza flown by twenty-year old pilot Roger Peterson. Due to detoriating weather and a lack of experience flying a plane, Peterson became disorientated and lost full control of the aircraft. As a result, Peterson thought that the plane was going up instead of down. All four passengers died instantly.
The influence of Ritchie Valens and Buddy Holly would grow immensely after their deaths. Both guitarists are featured on Rolling Stone lists of best guitarists of all time, and both have been inducted into the Rock and Roll Hall of Fame. Jay Richardson, son of The Big Bopper kept his father's legacy alive by performing his songs around the United States, many times dressed like his father as he appeared in the video for Chantilly Lace. Jay Richardson passed away in August of 2013.
Fifty-five years later, the music of Ritchie Valens and Buddy Holly still lives on today and remains as a fresh as it was during their short careers. Both guitarists would go on to influence many well known rock bands including The Rolling Stones who first had success covering Holly's song "Not Fade Away", and The Grateful Dead playing "Not Fade Away" nearly 700 times during their career.
Frankie Lymon
On February 27th, 1968 Frankie Lymon, front man of the 1950's band The Teenagers was found dead at the age of twenty-six of a heroin overdose in his grandmother's bathroom in Harlem, New York. After his year with The Teenagers ended, Frankie tried to get his career back on track by starting a solo career that was a failure from the beginning. No longer possessing a soprano range and a cute kid image, the public was no longer interested in Frankie or his voice.
 Frankie was born in September of 1942, the second oldest of five brothers. His parents sang in a gospel choir known as the Harlemnairs. Frankie and his brothers, Tim, Howard, and Lewis also performed alongside their parents as the Harlemnairs Juniors. While each brother had talent, it was Frankie who had the most charm and charisma.
Before his rise to international fame, he began working at age ten as a grocery store bagger and by age eleven he became a pimp, hustling prostitutes to their customers. In an interview with Ebony Magazine in 1960, Frankie divulged details about his rough childhood stating that "in my neighborhood there was no time to be a child. There were five children in my family, and my parents had to scuffle to make ends meet. While most kids my age were playing stick ball and marbles, I was working at the corner grocery store carrying out orders to pay rent." His knowledge about women also far surpassed his young age, stating that "I've known about women for as long as I can remember. When I was 10, I made a good living hustling prostitutes to the white men who would come up to Harlem looking for Negro girls. I'd get a commission for every customer I brought them.  I was a fresh young kid and everyone thought I was cute. Sometimes, they'd pay me off with something extra. I learned everything there was to know about women at the age of 12." Frankie's drug use also started at a young age when he began to smoke marijuana at age 11, but he didn't start doing heroin until he entered the music business at age 13 when he formed The Teenagers. During the year of The Teenagers short success, Frankie earned $5,000 a week in personal appearances and their single "Why Do Fools Fall in Love" made half a million in sales.
 The Teenagers rise to fame was quick, but how they started is more interesting considering their success. The band which also included Herman Santiago, Jimmy Merchant, Joe Negroni, and Sherman Garnes, began harmonizing on the street corners of Harlem and were singing in the hallways of an apartment building when fate came their way. Richard Bartlett, a singer in a local group called The Valentines, asked the boys if they would be interested in auditioning for a record label that was just getting started. While the group decided to take up the offer from Bartlett, little did they know that sixty other groups from around New York City had been offered the same invitation.  Lymon said of the audition "We waited from 6pm until 2 in the morning before they finally got around to hearing us." When they told us we had won, we could hardly believe our ears." The song the group chose for their audition was from an essay titled "Why Do Fools Fall in Love" inspired from the adult relationships Frankie grew up around.  The song was put to music in less than two weeks, and the label that signed them, Gee Records, established Frankie Lymon and The Teenagers as the country's leading singing group after the group's earnings from "Why Do Fools Fall in Love" made them a huge success. The Teenagers also recorded one album titled Frankie Lymon Featuring The Teenagers.
As you listen to the record you will notice that Herman, Jimmy, Joe, and Sherman all provide a solid backdrop for Frankie to showcase his voice. It also sounds like the album was intended to truly be a solo record for Frankie even though there are four other members in the group, since no one else in the gets a chance to solo except for Frankie. With the obvious exception of "Why Do Fools Fall In Love" songs like "Baby, Baby," gives you a real sense of Frankie's impeccable timing. Herman, Jimmy, Joe, and Joe start the song as backup singers, singing underneath Frankie, but once Frankie slides into the chorus of "baby, baby, how I want you, baby how I need you" you truly realize the intentions of Gee Records right from the start, which was to make Frankie the main focus of the group. Frankie Lymon is the star of The Teenagers and the other members are only secondary. Lymon was the glue that kept the band going and why they gained popularity so quickly. Without him, the band would be nothing.
To kick off the group's success, the group went on a 6 month long tour in the United States that included 50 cities, as well as taking them overseas to London, Scotland, France, Australia, and Ireland. During this tour, Gee wanted the group to have a front man, and felt that Frankie would be the best choice as he had written the majority of "Why Do Fools Fall In Love." Fights happened constantly on tour as Joe, Sherman, Herman, and Jimmy were angered that they were being pushed out of the spotlight in favor of Frankie.
 One year later, in 1957, The Teenagers manager Marvin Levy decided that Frankie should cut ties to the group and embark on a solo career. With Frankie's voice still having a soprano range, going solo seemed like a good idea, but it would ultimately be Lymon's downfall. "At first, it was felt that we could make twice as much money with two separate and independent acts than we could with one. At first, it seemed like the idea would actually work", Frankie said about severing ties with the band. After recording a cover of Ella Fitzgerald's song "Goody Goody", Frankie would have a brush with success as a solo artist as one million copies of the song were sold. But that success was also short lived as no one wanted to book Frankie as a solo act, instead wanting The Teenagers as a full group.  That same year, things only got worse for Frankie's dwindling stardom. The four remaining Teenagers had recorded a record titled Flip Flop which would be Gee's worst selling record. Because Lymon had always been associated with The Teenagers, the public reflected the record's poor sales onto Frankie, even though he wasn't even on the album.
It was in 1958 that Frankie's drug use took a turn for the worst. "I'm the kind of guy that only has it all good or all bad. When things started to go bad for me, the roof really caved in." At a party, he was taught how get a mild heroin kick by "skin popping", or pricking the skin slightly in order to inject a small dose of the drug into the body. But soon, Frankie's experimentation turned into full on drug use, and getting high on heroin became the driving force in Lymon's life.
 When Frankie decided to make a comeback, his new manager Sam Bray was not convinced. Not only did one time child stars have a hard time convincing the public that they were still relevant, but Frankie did not have much to show for his success. Feeling that the biggest issue in a comeback is being financially sound Bray stated to Ebony Magazine "a star needs many things". "He needs a repertoire of good arrangements, a flashy wardrobe, vocal coaching-things that cost big money." "All that Frankie has going for him is talent and guts." Up to this point, Frankie had several attempts to kick his drug habit but none of them had succeeded. He told Ebony that his latest attempt at getting clean had been successful and that he was determined for his life to head in a positive direction. "I know that many people aren't convinced that I have kicked the habit for good, but I know it and that's the main thing. Sooner or later, the skeptics will get around to believing me. Meanwhile, I'm content to wait."
Over the next several years, Frankie would go onto marry three women- Zola Taylor (a member of The Platters,) Emira Engle, and Elizabeth Waters. Though his boyish qualities attracted all three women to Lymon, none of their relationships lasted long. Lymon failed to divorce all three of them, often marrying his next wife before declaring himself legally divorced. His last chance of success before his death came in 1968, when Roulette Records offered Frankie a deal to record with them. To celebrate his success, he used heroin in his grandmother's bathroom, leading him to overdose on the drug.