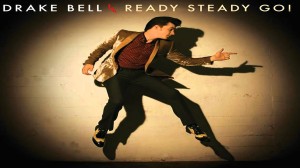 Ready Steady Go! is a throwback to the past, and while many former teen stars would not be able to pull it off convincingly, Drake Bell does. Getting his first taste of stardom on Home Improvement in the 1990's, it wasn't until the 2000's when he became a hit with teen audiences on the Nickelodeon show Drake and Josh. While he still does the occasional acting, he has also tried his hand at music. While his 2006 debut album It's Only Time had more pop inspired songs, on Ready Steady Go! Drake has become a full fledged rocker, playing the music of generations past and doing it well. While Bell has stated that he has "always been fascinated by generations that he did not get to experience", the twenty-seven year old has also taken on a 1950's look, fully embracing the style of his parents and grandparent's generation.
The album's opening track "Sunny Afternoon" has an easygoing feel with a jazzy piano part and bold vocals. Opening with the lines "the tax mans taking all my dough, and left me in my stately home" Drake hints at the adult problems that he is now facing, due to filing for bankruptcy protection earlier this year. Though filing for bankruptcy is not the stuff of teenagers, the opening line represents a more adult Drake who is looking for a more experienced crowd as he gets further away from adolescence. "Sunny Afternoon" was most likely placed as an opening track to pull people in, no matter their age, and that is exactly what it does. We are reminded of music of decades come and gone, which is also helped by Bell's perfectly gelled 50's style hair. "Bitchcraft" pulls us even further into old times, as the song starts off with Bell's vocals and a drum beat reminiscent of the swing era. The top-tapping chorus will be a hard one to forget, with the lyrics "I'm done with all your bitchcraft/I gotta get my soul back/We've played this game so long /I'm not sure that it will come back/I'm not trying to make you feel bad/But baby I just can't live with all your bitchcraft." The guitar solo that follows is not something you would except to hear on a Drake Bell album. It's intricate, tight, and catchy sound is something that you would expect to hear from a performer who is much more seasoned. We are once again reminded that Drake is wise beyond his years whether it be in mind, looks, or music.
"It's Still Rock and Roll To Me" has less edge with a Beach Boys feel. Despite not having the same hip swinging vibe of past songs, the musical train that Bell is on is moving steadily, and it feels like Beach Boys front man Brian Wilson would be proud of Bell's tribute. "Give Me A Little More Time" will give fans something to swoon over, as it is the albums second slow song and a perfect closing number. With backing vocals that sound like the Jordanaires, the vocal group that backed the majority of Elvis's records, Drake performs with purpose and confidence, making it a great ballad that doesn't sound sappy, which is great since its coming from a former teen television star.
Ready Steady Go! is a record that breaks down barriers and any preconceived notions about what a children's television star is capable of doing and is a sign that stars that have taken the same path as Bell should take more risks.