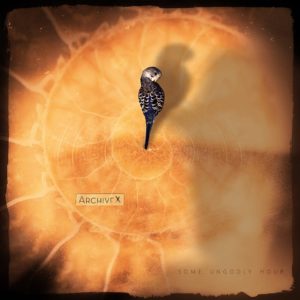 Getting his start in New Mexico while eventually moving to San Francisco, ArchiveX has released his new LP Some Ungodly Hour, an album that is hard to pin down, but incredibly infectious and catchy. Playing many styles including pop, gospel, and electronic, ArchiveX has given fans an album that is timeless while also keeping them satisfied until his next record drops. Opening with "Hymmmn," a track entirely composed of vocals, we get an interesting introduction to ArchiveX and his songs, though he leave us curious to see where the record is going. "Pilgrim of Sorrow" follows the opening number and its electronic tones generates a different atmosphere, creating a very ambient feeling.
Unique and distinctive, ArchiveX doesn't stop where giving his audience surprises. Cuts such as "Drink The Water" brings a gospel-hip hop vibe to Some Ungodly Hour creating an interesting angle to their music. "How can we describe this band?," we ask ourselves. We aren't quite sure, but ArchiveX's musical abilities are far beyond many acts today, while keeping Some Ungodly Hour flowing well, giving it many twist and turns we don't expect.
"Intermission" featuring JD Mayer, is another techno influenced song giving ArchiveX an urban feel and with a Mahalia Jackson influence, "Intermission" is a dynamite song that will have you tapping your feet.
The closing track on Some Ungodly Hour closes with a radio edit of "Drink The Water" a more mainstream version of the track heard previously on the radio. While both versions are memorable, this particular version of the tune is sure to win many dedicated fans once ArchiveX heads to radio. An excellent choice as a single, ArchiveX knows how to write music and play it well, creating music that is likeable and entertaining, without letting his audience down at any moment.
Check out "Drink The Water" below.