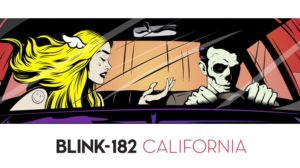 Well everyone, its happening. Blink 182 is back. Matt Skiba has officially joined the group to replace former guitarist Tom Delonge after he quit the band last year. Earlier today, the band released a new song titled "Bored To Death" which is their first song featuring Matt Skiba. If you missed out on hearing the song, you can listen to it in the post below this one.
In the last few hours, fans have found out that the band have named their new album California  with a release date of July 1'st. The record was supposed to be titled No Future, but I guess due to this new chapter, Mark Hoppus (the band's bassist) decided that the name would seem negative. The title OBGYN Kenobi was also tossed around simply because its Blink. If you've been following the band for any length of time, you are familiar with these joke titles.  Aside from the news about the album release, tour dates supporting California have surfaced online with A Day To Remember, All Time Low, and The All American Rejects opening on select dates. A track listing for the release can also be found below.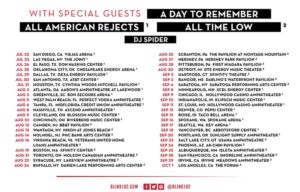 Cynical
Bored To Death
She's Out Of Her Mind
Los Angeles
Sober
Built This Pool
No Future
Home Is Such A Lonely Place
Kings of the Weekend
Teenage Satellites
Left Alone
Rabbit Hole
San Diego
The Only Thing That Matters
California
Brohemian Rhapsody
Whew, that was a lot. Feel free to share your thoughts about Matt Skiba joining the band, California's album art, the new song, etc.. in the comments section below.