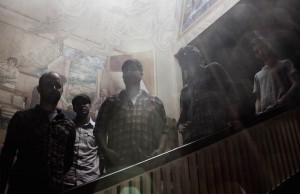 Falling Up have begin pre-production on their final album. Last September the band started a Kickstarter to fund the release, surpassing their goal of $40,000. In addition, the band have announced that they have decided to re-imagined their songs "Broken Heart" and "Arafax Deep." You can read an update from the band below, regarding both projects.
We are stoked to announce that we have initiated tracking! After several months of writing what we believe to be our best songs to date and choosing meticulously between them, we have settled in to begin pre-production on our final album. There will be many surprises as the months progress through Spring and into the Summer!
We have also tallied up the poll for the re-imagined songs that we will be recording and releasing. Drum roll please…
Brokenheart & Arafax Deep!
So prepare for some awesomeness coming your way! And once we near completion of the album we will be collecting surveys for everyone's addresses and details concerning specific tier memberships. All rewards will be honored, and in a relatively timely manner. That's how we roll!
Yours,
Falling Up