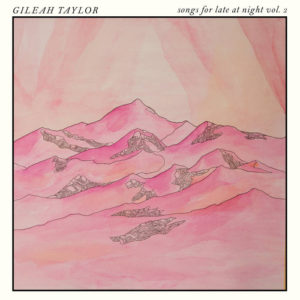 Destin, Florida's Gileah Taylor has released her new record Songs for Late at Night Vol 2, a collection of delicate and sparse songs, written to "take the listener somewhere other-worldly." While many would not associate the beaches of Florida with Gileah's preferred style, her gorgeous vocals and chill tracks suit her voice, making sure that her audience engages with every sound heard on her latest atmospheric work. Opening with "Alec," the record begins with a mostly a capella track that gives Gileah's audience a chance to hear her voice which is light and breathy, perfect for the kind of environment that she wants to introduce her fans to.
"John of the Four Track Heart" comes up half way through the record, and while the entire LP is mellow, Gileah incorporates soft guitar strumming while playing a soothing piano lick that takes us away. One of the strongest numbers on the LP, we aren't quite sure where she fits within the music industry, but it's hard to dislike Taylor and her work, as her tunes feel suitable for tapping into any emotion.
Closing with "The Other Side," Songs for Late Night Vol 2 ends with one more quite tune, closing the record on a high note, leaving fans with a positive feeling that they won't want to come down from, creating a connection between composer and fan that will last for a long time.
Beautifully written and performed, Songs for Late at Night… captures the beauty and richness of Taylor and her timeless music, a quality that allows it to stick permanently in our hearts. 
Take a listen to the track "John of the Four Track Heart" below.