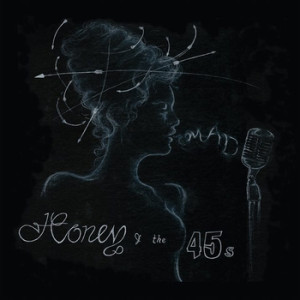 MAD, the latest release from Honey and the 45s, is a soulful and electric EP that will get heads bobbing and the audience dancing. The band formed in Chicago in 2009, and is fronted by female vocalist and guitarist Kristina Cottone, who is joined by vocalist, saxophonist, and guitarist, Kim Kozel, lead guitarist Jon Gould, Sean Tatum on bass, and Jarad Kleinstein on drums. The EP opens with the title track "MAD" and its sultry funkiness draws you in from the beginning, and as we listen to the song we realize how soulful the band is as a group. While the band plays music that was popular decades ago, they have a way of making the genres of jazz, funk, and blues sound fresh and completely new, as if the band is introducing each style to their audience for the first time.
"No Turn on Red" is MAD's fourth track and the groovy licks that each band member plays bring a different and distinct element to the track. While every member of the band is a talented instrumentalist, it is vocalists Kim and Kristina who really stick out from the others. With their smooth and silky vocals, they smooth out the tunes rougher edges to make the track sizzle and sparkle, making the song a memorable edition to the record. "Skinlovin'" is the albums next tune and its smooth jazz feel gives the release another dimension. While the song has a smoky and relaxed vibe, its delivery isn't as in your face as the other tunes, though it adds a breezy feeling to MAD.
To close out MAD, the band has included the song "The Arrows" which is a nice acoustic track that features Kristina's breathy and wispy voice that gives the release a more haunting tone. While every cut on Mad has a different side to it, every tune is exceptional. While Chicago has a strong jazz scene with the likes of songstresses such as Elaine Dame, Honey and the 45s are another solid addition to Chicago's vibrant jazz scene.