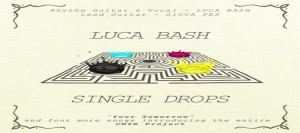 Single Drops, the latest compilation EP from Rome artist Luca Bash is a beautiful collection of songs that demonstrates Bash's true sense of artistry and command of the folk genre. Just a year ago, Luca released four EP's (Cyan, Magenta, Yellow, and Key Black) and has now decided to release one song from each of those release's along with a new track titled "Your Tomorrow", a stunning acoustic tune that opens Drops.
While the guitars throughout the song give off a glowing and polished feel, the only aspect that feels out of place is Luca's voice. Having more of a nasally feel, it takes some getting used to as we hear it alongside the acoustic guitars, however as the EP continues, we realize just how soothing his voice is, creating a relaxing atmosphere. Next, we have "Dear John" which sounds very similar to the material that American folk singer Jack Johnson would release.  While the song gives off a more somber vibe than Johnson's tunes, Luca performs "Dear John" well, leaving his audience surrounded by the calming sounds of his guitar playing and vocals.
To close out Single Drops, Bash leaves us with "Black Swan's Walls", a song that picks up the pace with a bluegrass inspired sound that puts an entirely different angle on the record, though it does feel a bit awkward to have this track stuck at the very end of the EP, as its disposition is completely different than the previous songs.
As the very last notes of Single Drops ring out, we know that Luca Bash is a wonderful up and coming acoustic artist that will go far in the independent music world, as his songs allow us to escape to another place, letting us truly realize his talent as a musician.