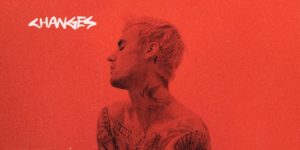 Pulling out of his 2016 Purpose tour after claiming health issues were the cause, Justin Bieber went into hiding and came out a married man and ready to release the best album of his career. Working on both his physical and mental health over the past several years, Bieber has emerged not only a stronger artist, but also one that feels more confident in where he's headed. Marrying model Hailey Baldwin in September of last year in a spiritual ceremony (the pair were legally wed a year before,) Bieber's new album Changes is entirely about Baldwin and their first year as a married couple. While he claimed in an interview with BBC 1's Zane Lowe that he didn't want to get to deep on Changes, the music on its own has more of a flow to it, while also taking Bieber to new heights vocally, making up for its lyrical flaws. While he is years past puberty, the music has pockets of adulthood scattered throughout, while still appealing to the young crowd he's performed for for the last decade.
Opening with "All Around Me," Bieber talks subtlety about his struggles and how he wants to remain faithful to Baldwin. Musically, the track doesn't do much, however Bieber's vocals are spot on with this number, making it the component that shines the brightest. Tunes like "Habitual" are sultry and saucy, while moving listeners with Bieber's deeper vocals. Getting back to his preferred genre of R&B, "Habitual," allows Bieber's audience to hear him get back to his roots and the kind of the music he's wanted to create all along.
"Intentions", featuring an appearance from Quavo is the LP's second single and perhaps should have been the record's lead track to introduce fans to this new chapter. While the lyrics at best could be considered hollow, the chorus becomes stuck in your head and as the beat thumps below Bieber's vocals, the track will get your hips swaying and hardcore fans grateful that Bieber hasn't lost the catchy edge that made them gravitate toward him in the first place. After all, he is best writing songs with a hit making formula in mind and "Intentions," does just this.
"Yummy," the lead single on Changes, while catchy, ultimately feels bland and flat after one to many listens. Seeming like it was put on the album to fill up space, "Yummy" doesn't sound like a tune that Bieber wants to be remembered for.
"Get Me," the last of many collaborations on Changes, Bieber has teamed up with Kehlani to give fans a sultry and sexy track that nods to Bieber's longtime hip hop influences. The high point on this track is of course vocals by each artist, with producer Poo Bear bringing both of them to life, demonstrating their talents as performers.
Ending the album is "At Least For Now," where a hint of a guitar is present on the track and it's pop infused stylings is a great closer for Changes. While Bieber is currently having slow ticket sales for his upcoming world tour, Bieber has created an album that will impress not only his critics but his fans. It's clear Bieber is heading in a new direction and time will tell if Bieber continues to walk this new path successfully.
Watch the music video for "Intentions" below.