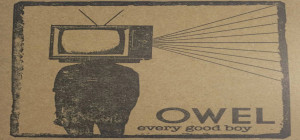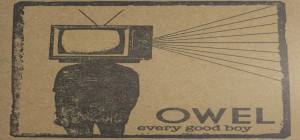 Every Good Boy, the latest EP from New Jersey band OWEL takes a unique approach to music by incorporating instruments such as strings and the glockenspiel alongside traditional ones like guitars and keys. Members Jay Sakong (guitar and vocals) and Ryan Vargas (drums) grew up in Middlesex, New Jersey, even though the two did not start collaborating together until 2010. On his daily train ride to university, Jay eventually met guitarist Seamus O'Connor and formed a bond over music, which eventually led to Jay asking Seamus to join the group, even though Jay had never heard Seamus play. After writing enough material to start booking shows, the group discovered something was missing, and eventually Jane Park, a violinist and keyboard player, would soon join the group.  When the band needed a bassist, Nunzio Moudatsos came on board to round out OWEL.
With their unique sound, OWEL certainly know how to write good music. On Every Good Boy, the band plays a mix of dreamy pop with a pinch of Death Cab For Cutie, to make their music have a hint of rock and roll. While the EP is far too short, as it has only four songs, the release features tunes that will grip its audience from beginning to end. With breathy vocals from Sakong and beautiful strings from Jay, OWEL takes us to another world entirely, as each song takes us away from the present moment. The EP opens with "Every Good Boy Does Fine", and right away we notice that we are listening to something that not a lot of bands are releasing today. Opening with a guitar and snappy strings, the buzz that is currently surrounding Every Good Boy is very well deserved, as the band has blended a variety of genres together effortlessly, making this release one of the best we've heard this year.
"Razors" opens with a haunting piano part that makes us feel like we are being transported through time and space, and the songs emotional tone draws us in and doesn't let us go. It's obvious from this track that OWEL know what their fans want, as the song has enough twists and turns to make us excited for what comes next.
"Flying Man" is a hazy pop tune that feels like it can be compared to Jimmy Eat World once they head into lighter territory. While it is hard to tell if the song would succeed as a radio hit, fans will love the track for its spacey delivery and Jay's soaring vocals, which have a calm and meditative feel. The EP closes with "All The World's Asleep" and its cool vibe really sets the band apart from other groups that are coming up today, as OWEL looks to really focus on instrumentation and the sound of each individual instrument. A stunning closer, "Asleep" is a gem of the track that will be adored among the bands audience.
While Every Good Boy's ending feels a bit premature, it serves as an introduction to not only where the band is heading musically, but also where they are heading as they continue to make a name for themselves throughout the music industry, and their new EP proves that they are succeeding.
If you are interested in buying the album, you can do so here.