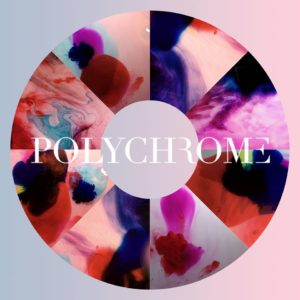 London electronic-pop outfit Polychrome has released their new self-titled album, full of 11 adventurous tunes that will delight anyone looking to introduce themselves to the pop electronic realm. Opening with "The Call," members Vicky Harrison, Oliver Price, and Stephen Hodd, have dropped an ambitious album that showcases Harrison's dreamy vocals backed by a bouncy background of shimmering music. While its electronic leanings won't please everyone, it fits well with what we hear coming from across the pond, as electronic and dream pop music makes its splash. 
Tracks such as "Dreaming About You," recently got the music video treatment and its pounding drums from drummer Hodd, begin the process of making the song single material. As Harrison and Price sing together on this song, giving "Dreaming" a masculine edge that is missing throughout the album, its bright, colorful, and feminine sound makes "Dreaming," a standout tune. Songs as "Synesthesia," brings Polychrome to life, as they brilliantly describe (at least musically anyway,) what its like to have synthesia, where people see letters and numbers in color. A gorgeous track, "Synethesia," is dream pop at its finest, allowing Polychrome's fans to escape and become swept away in the music. 
Closing with "Don't Be A Stranger," the nearly three minute track brings a different sound to the record, with a slightly more harsh sound then previous cuts. With a song that builds in momentum, each sound builds on each other, as the band's creativity comes full circle. While Polychrome may not spark everyone's interest, for those who are looking for something more obscure sounding, then Polychrome is worth a listen. 
Listen to "The Call" below.