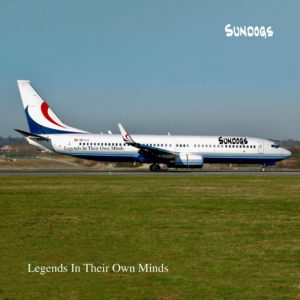 Sundogs, a Seattle based pop-jazz band has released their new album Legends in Their Own Mind, a 12 song LP that takes listeners deep into the duo's diverse influences that range from Miles Davis, Bob Marley, Led Zepplin, and Aaron Copland. While the band hires studio musicians to perform on their records, the bands two constant members Stan Snow (vocals and guitar) and Jed Moffitt (vocals and keyboards) have both written rich and vivid tracks that will delight listeners of smooth jazz and pop. Opening with the track "Fallen Hero," the duo dips their toes into the style of Tom Petty, with an up-tempo track that is beautifully produced and executed. As the duo writes lyrics that everyone will remember, Snow and Moffitt are musicians who deserve to be noticed.
"Hope" the record's fifth track goes in much the same direction of "Fallen Hero," though the time signature slows down a bit, introducing a more country style sound. "Alive Tonight," has a warm tone with a piano and bass line, finally introducing their listeners to their jazz influences, a genre that goes well together against the band's tasty pop jams. Snow proves himself to be a talented pianist on "Alive Tonight," and his chops is what makes the track so memorable. "Did It Really Happen" brings in Chicago styles horns, making more use of their jazz references, and we envision sitting in a packed house listening to the upcoming Seattle group, we hope that they soon have the ability and means to tour as they could be easily be embraced outside of their adopted hometown.
Closing with the "End of the World," Sundogs have written an enjoyable album that should be spun more than once, and while the rock influences work well for the duo, it is jazz that turns out to be the band's strongest asset and we hope that the band makes this genre a priority on future releases. The band has claimed that they write music purely for the joy of it and that sentiment shines through completely on Legends In Their Own Mind.
Watch the music video for "Alive Tonight" below.