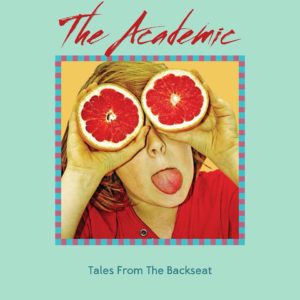 Releasing their debut EP Loose Friends in 2015, Irish indie band The Academic has released only EP's and standalone tracks, with fans finally getting a full-length album from the group called Tales from The Backseat. While it's in a similar vein as their previous work, the record cements the quartet as a group to watch for the rest of 2018. Opening with "Permanent Vacation," the songs bright riffs and "whoa oh oh" chorus, makes "Vacation" a great opening song. "Bear Claws" is next, with the same colorful and inviting sound. When the music video for the track went viral for the group being able to synchronize each instrument with the delay on Facebook Live, it felt like The Academic are finally getting recognition after a few years of trying to squeeze to the front of the indie scene.
While Tales from The Back Seat features mostly all new songs, there are a few cuts that fans will know already, including the much-loved song "Different," which this time around has a much larger sound. "Fake ID" is a number that fans are labeling as a "bop," and they couldn't be more right. A catchy and memorable tune, the hard work that the band has put into this album comes out in full force on the song, as "Fake ID" can easily become a quiet hit among fans and casual music fans alike.
"Northern Boy" is another older track, and it feels like the band picked these songs to be on the album because they wanted to introduce them to new listeners, and out of all their older material, the songs included here are excellent choices and are a few of the highlights of their early career.
Closing with "Girlfriends," the acoustic opening is the softest part of the album, as vocalist and guitarist Craig Fitzgerald has grown quite in his singing skills since the band starting to become recognized. Thankfully, there are no filler tracks on Tales from The Backseat, and for debut records, The Academic knocks it out of the park.
Listen to "Fake ID" below.