Note: For this review, Listen Here Reviews has done something a little different than what our readers are normally used to with reviews. Instead of posting the review straight away, we have also provided a short Q&A with one of London's upcoming artist
V Pages
 (pronounced "five pages") as a way to allow our readers to dive deeper into the music we feature.  We hope you enjoy this Q&A and review. If after reading, you would like to purchase the bands latest release
After The Storm
, you can do so
here
.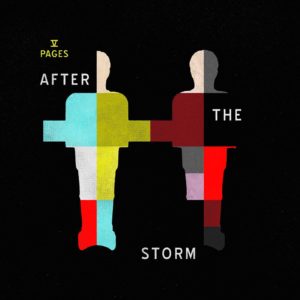 1. How did you get started playing music and how did you get into playing electronic music?
When I was 5 years old I used to love listening to my mum playing Scott Joplin tunes on the piano – so I asked if I could learn to play the piano too. When I was a teenager I heard The Pixies "Surfer Rosa" then bought a bass guitar and started a band, but I also loved the electronic music coming out at the time – first albums by Underworld, The Prodigy and Chemical Brothers were big for me, as well as a lot of the ambient house scene (The Orb, Banco de Gaia, Orbital etc). The electronic direction for me came partly out of those influences, but also out of the fact that this was music I could make on my own, in my bedroom, without having to arrange a band practice or rope anyone else in!
2. How did you choose the guest spots for this EP?
I'd basically put together a load of backing tracks which I felt needed vocals on top, so I asked my friends who were singers and who I thought were in the right place stylistically if they were up for a collaboration. I sent them a load of backing tracks to choose from, so it's a bit like I chose the guests, but they chose which tracks they would be guesting on.
3. What was the inspiration for After The Storm?
Very simply, it's The Verve's first album 'Storm In Heaven'. This whole project started with a simple thought of "what would that album sound like if it were made now instead of in 1993?" My love of big synth sounds became an important part of that mix, but I was really trying to express how that album makes me feel rather than copying the sound of the original. I imagine a lot of other Verve fans would struggle to hear the connection, but to me these tracks make me feel that same way as I do when I listen to 'Storm In Heaven'.
4. What was the songwriting process like?
I generally start with a chord progression and a sound that I find inspiring. I then layer and layer on top of that – recording and writing at the same time – before I move onto building another section, which undergoes the same multi-layering process. Once I've got way too much material (!) I pull it all apart and work out an arrangement of how all these different parts should come in and out and interact with each other. It's generally a process of attrition where I'll keep chipping away at an arrangement over a period of time, as I find coming to a track with fresh ears is the best way to get some sort of objectivity.
——
After The Storm, the latest EP from Grammy nominated producer Dom Morley, also known as V Pages, is an EP full of electric pop songs that are highly enjoyable, with colorful choruses and brilliant bursts of creativity. The EP's opening track "I'll Stand" featuring Field Stars, is a gorgeous opening track that sets the pace and tone for the EP perfectly. Opening with vocals that sound similar to those heard in Oasis, the song takes us to another world with its gentle sound and anthem like rock beats.
"Five Pages," the releases next song, takes on more of a techno influence, as Morley's audience hears his creative vision in full. Wanting to feel expansive and expressive, V Pages has released an impressive effort that will become a part of fans regular music listening. Tracks such as "Only One" turns things down a bit by featuring breathy vocals that creates a trance like atmosphere for listeners, enveloping them in the music and letting the sound wash over them.
To close out After the Storm, Morley has included an extended mix of the song "In and Out" featuring Saint Saviour. Already relaxing in nature, "In and Out" is by the most mellow track on the record, giving the EP a multi-layered feel.
While After the Storm certainly won't be for everyone listening, for those who are won over, Storm is the perfect choice for electronic music fans who are looking for something much more laid back and slow, with Morley releasing quality music that will make his name even more noticed than it is now.
You can stream the track "I'll Stand" below.