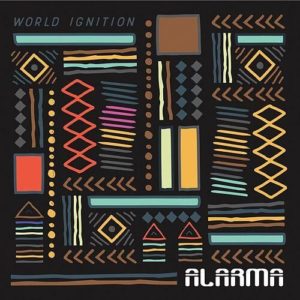 Writing music in a variety of genres such as reggae and ska, while sprinkling bits of African and Middle Eastern flavor, Los Angeles band Alarma has dropped their second self-released record World Ignition, the follow-up to Ripe Conditions, released in 2014. Performing at colleges and various venues across the United States for the last few years, Alarma has the potential and the sound to perform their music in even bigger spaces.
Opening with "Fire," World Ignition starts off on a high note with a chorus that sounds like it could have come straight out of a Culture Club track with its funky and colorful tones. With guitarist and vocalist Pedro Martinez taking the reins as front man, he is certain to get the crowd dancing with the record's opening track. "Turn the Knob," the LP's fifth track has a reggae and ska infused style, making for an infectious and unforgettable sound. Another dance tune, the song is guaranteed to be popular with fans in a live setting as well as through their headphones. Tastefully done, the group injects enough energy into the track to get the fire going, without overdoing the enthusiastic vibe. Reminding hardcore ska fans of the British band The Beat (also known as The English Beat in the US,) there is no excuse for Alarma not to become huge.
Inspired heavily by the music style cumbia, a dance-orientated genre originating in Latin America, Alarma close World Ignition with the tune "Cumbia Step," while giving it a bit of a hip hop influence in the backbeat. With a warm bassline to tie up the song, Alarma has created a pleasing record that reggae fans will enjoy, putting out an eclectic piece of art that will pull in nearly type of music fan.
Listen to "Fire" below.