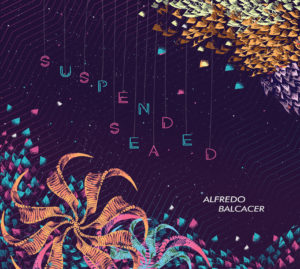 Immigrating from the Dominican Republic to the United States, musician Alfredo Balcacer has released his new album Suspended Sea, an album that marks his debut as band leader and composer. Wanting to write an album that highlighted his experience as an immigrant in a new country, Balcacer has released an LP that vibrantly illustrates his experiences with American jazz influences while highlighting the sounds of the land he left behind. Graduating with music degrees from Utah State University and Western Michigan University, while also participating in the Gold Company Vocal Ensemble, USU Jazz Orchestra and Mas Que Nada Latin Ensemble among others, Balcacer knows instinctively how to write a song that sticks in your heart.
Opening with the dizzying and rich "La Silla Marron," he blends modern jazz guitar riffs with skittering drumbeats to create something entirely unique. With the drums, Balcacer wanted to take the patterns of the Dominican Republic and have American musicians play them, presenting an interesting interpretation of international music that may be foreign to listeners in the US.
Opening with a percussive intro that takes us back to the sounds, sights, and smells of the Dominican Republic on "Inside My Head," Balcacer continues to sweep us away, as a colorful horn section entirely makes the track. Thankfully everything on this number gels together well, making "Inside My Head," a song that we will come back to over and over. Entirely instrumental, its nice that we don't have vocals to distract us from taking in every single sound we hear, almost making for a meditative like experience, so we can relax, listen, and enjoy.
Closing out Suspended Sea is "Tales of the Horseback Rider," a track that begins with a beautiful piano bringing in the modern sounds of jazz that is still popular today. While Suspended Sea is not your typical jazz record, Balcacer has released a stunning debut that highlights his talents and gifts for writing music, and this is only his first record, we hope it's not the last we hear from him.
Listen to "La Silla Marron" below.