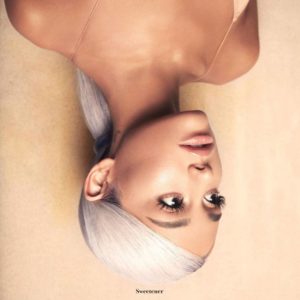 Ariana Grande has plenty to talk about on her latest album Sweetener. When Grande announced the news of Sweetener just recently, fans were ready for new music as they haven't heard anything from the singer since 2016's Dangerous Woman. The album spans a little less than an hour, and discusses the now infamous Manchester Arena terrorist attack in 2017, a short ode to Saturday Night Live cast member Pete Davidson who Grande recently became engaged to, her success, and various collaborations with Pharrell, Missy Elliott, and Nicki Minaj.
Opening with the introduction, "Raindrops (An Angel Cried)" fans are instantly reminded that Grande is a powerhouse vocalist, with a vocal range that rivals her musical hero Mariah Carey. Entirely acapella, if you haven't heard Grande sing before, "Raindrops" is a great presentation of her voice, and with the echo that ends the track, we know that Grande possesses something special as the all too short tune swallows listeners in her talent.
"Blazed," follows and is the LP's first collaboration with Pharrell. Certain to become known as a popular hit among fans and critics, the track features slick production and smooth vocals from both Grande and Pharrell, and while "Blazed" feels a bit repetitious at times, the vocals from both parties more then make up for this.
"God Is A Woman," is another memorable track, pointing to Grande's spiritual and feminine side, while allowing the chorus to get stuck in your head. With an infectious beat, "God…" should be a popular tune on the radio, once again showing that Grande has the vocal prowess of singers that are twice her age.
After "God Is A Woman," fans are introduced to the title track, and that is when the album starts to go downhill and certain songs could have been shelved. With lackluster beats and mediocre lyrics, the second half of Sweetener includes several weak songs, including the title track. Numbers such as "Breathin" have the potential to be real bangers, though when placed along snoozers such as "Pete Davidson," these cuts feel rushed and like they were written to fill up space on an LP where the best definitely comes first.
The only redeeming song is the closing tune "Get Home Soon," which focuses on the Manchester Arena attack, which left a permanent mark on the live music industry. With a jazzy piano and Grande's vocals, its a great ending to an album that could have been fantastic, though all is not lost when we hear the real gems placed throughout.
Listen to "God Is A Woman" below.