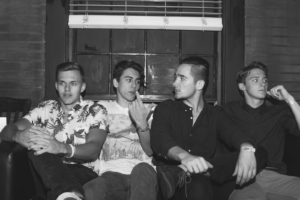 Coachella, California band Bear Fight has released their new single "She." An emotional track that started out as a poem written by front man Michael Ramirez, the song features three guitar and the entire band singing along. After outgrowing the desert, the band has since moved to Los Angeles where they have opened for Fitz and the Tantrums and The Expendables. You can read what bassist Matthew Sutton has to say about the song's inspiration below.
"The three-chord song was written in about 10 minutes, and was last on the list during pre-production. We didn't know this would eventually be "the song." Around 2am, finishing recording, our drummer Ryan spontaneously said, 'Mike, take me to She real quick.' He laid down a massive drum part to inspire the rest of the song's direction, two minutes and forty seconds of longing and emotional power. We knew we had sparked something that we had not heard before."
Check out the track below, via Paste Magazine.