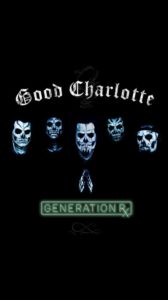 Upon releasing their self-titled debut album in 2000, Good Charlotte won fans over quickly with autobiographical songs that were relatable, while the music industry didn't quite know where they were supposed to fit, as they were writing rock tunes during the boy band craze as Justin Timberlake's face took over the bedroom walls of teenage girls. While the group has been together for over twenty years, they have evolved with each record, and with 2016's Youth Authority, fans saw the group go back to their pop punk roots, reminiscent of such hits as "The Anthem" and "Lifestyles of the Rich and Famous."
On Generation Rx, their latest effort, the five-piece sought inspiration from the current opioid crisis in the United States, along with losing their friend rapper Lil' Peep from an overdose. Focusing entirely on their pain when writing this new record, it is the darkest record Good Charlotte has released to date, with it possibly being their best, as the group has written what could be considered somewhat of a concept record.
Opening with the title track, it sets the dark and somber tone for the rest of the LP's nine songs, but other then that, we aren't quite why its there, as its awkward feel gives us the sense that the band could have put 11 or 12 songs on the record and not nine, giving their audience something that sounds fully fleshed out.
The record's third single "Shadowboxer" is up next, and while its heavy lyrically, the songs music is also the hardest song not only on the album, but also in the band's entire discography. Twin brothers and front men Joel and Benji Madden sound excellent on the track and give fans their trademark harmonies that make Good Charlotte songs so recognizable. Tunes such as "Prayers," discuss organized religion, something the group has touched on over the years, but haven't written anything that focuses so intensely on it. With Benji's raspy vocals introing the lyrics, "Prayers" sounds introspective, highlighting the brothers and their ability to write music that resonate with the people listening.
Ending Generation Rx with "California (Like the Way I Saw I Love You,") Joel Madden described the track as a positive one and a love letter to his children, as it lifts the darkness of the rest of the record and ends on a positive note.
With Youth Authority, it feels the band felt like the group's time was coming to its end, but with Generation Rx it feels like they are back and ready to release even more albums. While the band has always struggled to find their place in the music industry, with Generation Rx, it feels like they can finally be taken seriously as a band.
Watch the "Actual Pain" music video below.