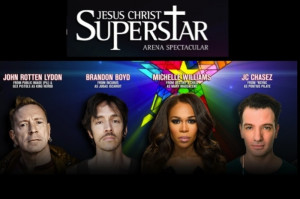 In April it was announced that Johnny Rotten of The Sex Pistols and Brandon Boyd of Incubus would star in an upcoming adaption of the musical Jesus Christ Superstar. However, there are now reports that the show has been cancelled due to funding. The two month long run with fifty-four dates was set to begin in nine days. The productions site did not offer any explanation for the cancellation. According to its producer Michael Crohl,  the shows cost was "in the eight figures" and that "they would to bring in "several hundred thousand dollars" just to keep the show running.
Rotten would of starred as King Herrod, Boyd as Judas Iscariot, Michelle Williams of Destiny's Child as Mary Magdalene, and JC Chasez, formerly of N'Sync as Pontius Pilate.
Taken from Consequence of Sound.