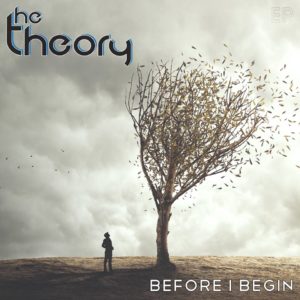 Six hours from the bright and cutthroat lights of Los Angeles, California is San Francisco, an unlikely place for a budding rock band. While the thriving metropolis was once known as a music mecca due to the influence of music heavyweights Janis Joplin, The Grateful Dead, and concert promoter Bill Graham, that brightness dimmed in the 1970's when arena rock began to gain steam and Graham perished in a helicopter accident in 1991. While the city has churned out some great rock bands in the years following Graham's death, there is one group that sticks out in the current scene. That act is The Theory, an outfit that performs a mix Americana music with a dash of sizzle, with songs that capture the heart and soul of each member's passion for music. On their new EP Before I Begin, the four-piece has released five tracks that bring a new dimension to the area's stale music scene.
While The Theory only formed in 2016, it took just two years to create a sound that engages their audience, as they do throughout the course of the EP. Opening with "Take Me Away," the tune opens with a riff reminiscent of Mississippi hit makers Three Doors Down, though it is guitarists Patrick Ford and Zach Norman that reminds us that The Theory is not just another big city rock group. With woozy, raw vocals from both members that entrance the listener, The Theory will soon become your favorite local act if you call the Bay Area home.
Tracks such as "What Will You Do," takes on a funkier feel with a warm and sizzling bass line from bassist Dillon Gradl. The smoothness of the rhythm section rounded out by drummer John Hendricks on this track, will delight your ears and leave you wanting to hear more. Ending Before I Begin, with "All That I Have," The Theory will soon become a band that you can't stop spinning. While San Francisco is a difficult city for musicians to make it in, The Theory have a strong batch of tunes that will take them far, visiting cities that are far away from San Francisco, while exciting the locals with a killer new sound.
Listen to "What Will You Do" below.