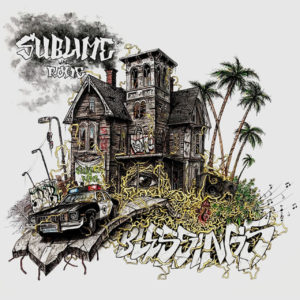 Making their debut in 2011 with their album Yours Truly, Sublime with Rome came back to life for a new generation. For music fans that were alive during the 1990's, they may remember that the band was known just as Sublime, who rose to quick fame with their 1996 self-titled album and the death of their front man Bradley Nowell from a heroin overdose earlier that year. Known for hits such as "The Wrong Way" and "Date Rape," Sublime would have made it big if Nowell's death hadn't brought the group to its stunning end. While the Long Beach based band was now over, members bassist Eric Wilson and drummer Bud Gaugh went on to play in various groups in the Southern California area. Wanting to get the band back together under the Sublime moniker, the group was set to perform at a festival in 2009, when the Nowell estate legally stopped the newly reformed trio from using the group's name in performances, as Nowell owned the name.
Due to legal issues, the band was forced to change its name to Sublime with Rome, bringing newcomer Rome Ramirez into the fold of the Sublime legacy. While Ramirez was a talented guy, old Sublime fans took notice that he sounded eerily similar to Nowell, though that hasn't stopped the Southern California musicians from experiencing new popularity. On the group's new album Blessings, Gaugh is no longer in the band, with drummer Carlos Verdugo formally of the Tribal Seeds is now sitting on the drum throne.
Opening with the title track, "Blessings" is a song that opens the album's relaxed ska and reggae song with a sound that is not as snappy as older Sublime material. The group performs well together and is the perfect soundtrack to the arrival of summer. Tunes such as "Blackout" keep the record's chill nonchalant feel going, though it doesn't quite awaken the senses as the band has previously done, and while the track may work for fans who are already diehard, "Blackout" fails to stick with those who are new to hearing the band.
"For the Night," closes Blessings, and finally we get a number that feels catchy and vibrant unlike the majority of the LP. While Sublime with Rome is on the right path, they will never catch up with the greatness of the original band, though they are already crafting their own spin on ska and reggae. We hope that Bradley would give them a thumbs up, for not only releasing music that is true to him, but music that is a continuation of what he started.
Listen to "Blessings" below.