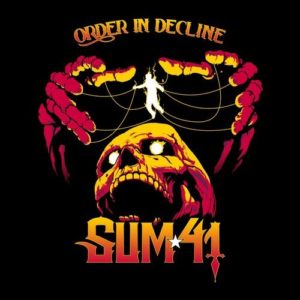 Getting their start in 2000 41 days into the summer, Canadian band Sum 41 have released some good albums, starting with their debut Half Hour of Power, released that same year and onto their more recent albums such as Underclass Hero and 13 Voices, released in 2007 and 2016 respectively. On their latest LP Order in Decline, the band explores political issues, though the band doesn't explore much else, as they have on previous releases. With their original guitarist Dave Baksh making a return to the group a few years ago, the band remains as tight as ever, bringing back their early heavy metal influences, while ditching the pop influenced metal-punk sound that made them famous.
While Order in Decline ends up working out musically, subject wise it's a little thin. Opening with "Turning Away," this is the second album to feature drummer Frank Zummo, and guitarist Tom Thacker who replaced Baksh during his original departure, though decided to stay with the band when he returned. While the Ajax based five-piece has brought back their heavy metal influences, the group clearly states through the music that they won't be writing pop songs any time soon. Order in Decline is fast, loud, and furious, something that comes across well.
"Heads Will Roll," is Order's… fifth track and as the opening riff sets up the fury, its one of the more mid-tempo tracks on the LP. With front man Deryck Whibley's raspy voice being the center piece of the tune, he sings against the band's rage and as usual has an ear for writing music that resonates with their fans no matter how long they've been listening. While the lyrics need some work, musically "Heads Will Roll" is a song that fans won't soon forget.
To wrap up Order in Decline is "Catching Fire," a slower track than what Sum 41 has exposed listeners to on the rest of the album. Overall, Order in Decline is a good attempt at political conversation, but its lack of exploring other topics leaves the record feeling hollow while lacking the catchiness that fans have come to love after almost 20 years.
Listen to "Heads Will Roll" below.