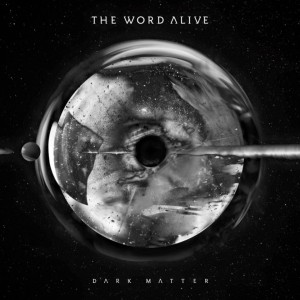 Over the last few years, Arizona metalcore band The Word Alive have written some fantastic records incorporating screams and blistering guitars that have made the band very popular within their genre. On 2014's Real they began to head more towards a melodic sound, using more clean vocals along with writing guitar riffs that made each song sound like it was enveloping the listener, since it felt like the songs were surrounding you. Starting their career in 2009 by signing to Fearless Records along with releasing their debut EP Empire, The Word Alive have gained a strong and passionate fan base who have stood by each album the band have released, making the group an act that deserves attention. When they welcomed drummer Luke Holland into the fold in 2012, they dramatically improved their sound along with their overall reach when promoting their music to new fans, due to the popularity of Holland's YouTube videos where he does drum covers and remixes of popular songs.
On Dark Matter, The Word Alive have come full circle when adopting a cleaner sound, with each track featuring front man Telle Smith backing off a bit on his brutal screams that the group are known for, and instead becomes focused on pulling in his fans with his clean vocals, which win us over immediately.
Dark Matter begins with a track titled "Dreamer" which is the best and most solid opening song that we've heard on any record put out by The World Alive so far. Telle's voice combined with with lead guitarist Zach Hansen's guitar riffs make the song soar and is a departure from the band's previous material, though in this case it works extremely well as longtime fans will still hear remnants of their original style throughout Dark Matter, leaving their longtime audience confident that The Word Alive aren't abandoning their original sound in favor of something more rock influenced. On this LP, drummer Luke Holland has also moved away from the use of a lot of double bass drums and the flashy beats that have made his YouTube videos a popular draw, with Dark Matter showcasing his natural talent for drumming as he has written parts that sound more fit for a rock act than a group rooted in metal.
"Trapped" follows on the heels of "Dreamer" and it was the first tune fans heard from the record, and while the song isn't quite as stunning as its predecessor, "Trapped" brings to the forefront the bands dark roots as well as highlighting that they can energize any crowd that they perform in front of. "Insane" is another track that is similar to "Dreamer" as it has a flawless production and powerful sound, with a great drum part from Holland who carries the tune with complete ease. Writing songs that bring people together has always been a strong trait for The Word Alive, and Dark Matter reminds fans that they are a little less alone with their emotions, only further solidifying the bond between artist and fan.
"Branded" is another standout track that pulls us deeper into the album's spell, with the tune convincing us that The Word Alive have recorded a true gem and one that will be enjoyed by almost any metalcore fan. With the record ending with a tune called "Oxy" the Arizona band are certainly an act to watch, as their abilities come through on this record exceptionally well, painting a picture of a band who is exceptional in their musicianship and songwriting.
Watch the music video for "Trapped" below.