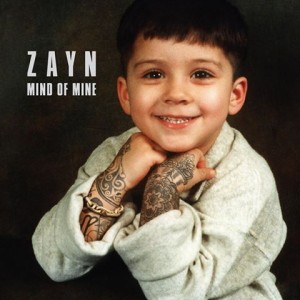 March 25th, 2015 was a day that One Direction fans will never forget. It was the day that Zayn Malik announced he was leaving the British boy band to focus on his life out of the spotlight in order "to be a normal twenty-two-year-old" after leaving the bands On The Road Again tour a week earlier, citing stress as the reason for his absence. Instead of focusing on having a normal life like he claimed, leaving the world's most famous boy band would be his first step in charting his path as a solo artist. Claiming that he was never allowed to experiment creatively with his preferred genre of R&B during his time in the pop rock band, Malik decided to leave the group.
Fans weren't quite sure what to expect, but what they got is pleasantly surprising. On Zayn's new album Mind of Mine, we not only see his perspective on his life as it currently stands, but also where he wants to go musically, experimenting with R&B while also incorporating rock, pop, and 80's era music.
Mind of Mine opens with an intro with the same name, reminding some listeners subtly of English rock band The 1975, while Zayn (who is no longer using his last name Malik professionally), introduces listeners to his sultry voice, while also reminding them that he was one of One Direction's strongest assets. The record's lead single "Pillowtalk" is a sexy and beautifully done upbeat track that showcases Zayn's talent and new path. While it is lightyear's away from his old band's sound, it's obvious that he is happy, complete, and whole.  After listening to Mind of Mine in full, it has become clear that Zayn has taken a genre that was in decline and revitalized it, making it relevant again. While we wonder if Zayn would have had the same solo success if he hadn't been placed in One Direction in 2010, Mind of Mine is a record that does not struggle to stand alone, like many boy band members who have quite their previous bands and attempted to make records.
"Befour" the last promotional track that fans heard from the record before its release, incorporates Zayn's Asian heritage, by adding in a Bollywood influence among a thumping beat and Zayn's relaxed vocals that make the song a sleeper hit. Dark and confident "Befour" is a strong track and represents this new chapter in Zayn's career. Cuts such as "She" and "Drunk" are two songs that convey Zayn is entirely smitten with R&B, finally putting him right where he belongs, and while he fit in well with One Direction vocally, as a solo act he sounds more vulnerable and free, as his true voice is finally coming out.
Lastly, the eighteen track release ends with "She Don't Love Me" a song that is beautifully done and as it brings Mind of Mine to an end, the bumping track presents a grown up Zayn. While it's not clear yet if Zayn will bring his One Direction supporters with him on this new journey, he will certainly find a new crowd among those who pick up Mind of Mine, as he is able to shed his teen pop skin for something that feels more real and genuine.
Watch the video for "Pillowtalk" below.