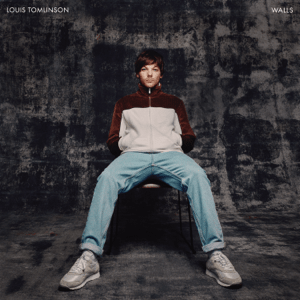 When Louis Tomlinson auditioned for the 2010 X Factor, he would go on later to say that his version of "Hey There Delilah," by the Plain White T's "was horrendous," though while his talent was obvious, Tomlinson often wasn't listed as a favorite of the British-Irish boyband One Direction until later on in the band's seven year career. Not known as one of the group's stronger vocalists, it was hard to tell what direction he would go in with a solo career. After experimenting with EDM on the smash single "Just Hold On," Tomlinson admitted that was going with the flavors of the radio rather than his personal musical influences. On his debut Walls, everything falls into place, with an Oasis inspired sound that feels uniquely his own.
Opening with the rock influenced "Kill My Mind," it's a far cry from the earlier days of his solo career. While it's an interesting song to open with given Tomlinson's softer vocal tone, "Kill My Mind," ends up working well, bringing a much heavier tone to Tomlinson's chosen style.
"Two of Us," is the album's first ballad and it's turned into a fan favorite due to its personal nature. Written for Tomlinson's mother Johanna Deakin who died of leukemia in 2016, it's a song that so many can relate to, and while it's sad that a song like this has to have a place on Walls, it's clear the LP is full of memories and reminiscing – both the good and the bad.
Tracks such as "We Made It," are obvious hits. Speaking about his on and off again girlfriend Eleanor Calder, fans of One Direction would often hear of Louis discussing visiting his girlfriend at university and a taste of a lifestyle that was far removed from the lavish life he was living being a part of One Direction. On the song, Tomlinson paints himself as normal and convincing anyone listening that he is not into music for the fame or the money. It's a tune that is infectious, with Tomlinson giving off Liam Gallagher vibes, calling Oasis "forever my favorite band." Despite the comparison, the tune does not come off as a rip off of the legendary British band.
"Two Young" is another acoustic ballad, and it features the best vocals from Tomlinson to date. When One Direction were edging toward solo fame, this was the type of music that fit Tomlinson the most. Vocally he wasn't powerful enough to sing songs such "Kiwi" by band mate Harry Styles, but pair his vocals with an acoustic guitar and his voice became something that was able to come out of the shadows of his former bandmates. "Habit" is another nostalgic track and as Tomlinson sings "we've come so far from Princess Park," it's clear that One Direction was special and that he longs for the days when he and the rest of the band were young and free, completely unaware of what would eventually happen to them over the course of their career.
"Only the Brave," finishes off Walls, and while it's the shortest track on Tomlinson's first solo offering, it's a great way to wrap a debut that could have completely crumbled, but instead pulls itself up like a mountain and completely slays. Tomlinson has stayed true to his word of being himself and Walls is a surprisingly good debut.
Watch the music video for "We Made It" below.