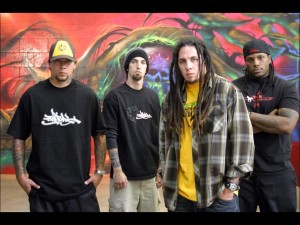 P.O.D. have launched a PledgeMusic campaign for their new acoustic album. You can check out the details below.
P.O.D. has announced a pre-order for their upcoming album through their partnership with PledgeMusic. The San Diego based, multi-platinum hard rockers will make their album available on the direct-to-fan platform. The band chose to work with PledgeMusic so fans could receive updates directly from the band during the album making process, offering them behind-the-scenes access and a chance to pre-order early.
In response to requests, P.O.D. will deliver the upcoming acoustic album, which will include favorite hits "Youth of the Nation" and "Alive" along with two brand new songs. Over the last two decades, the group has sold over 10 million albums (including 2001's triple platinum record Satellite), garnered four No. 1 music videos, three Grammy nominations and had over a dozen rock radio hits, including "Southtown," "Alive," "Youth of the Nation" and "Goodbye For Now." Just for pledgers, P.O.D. will offer a number of exclusive, limited edition and one-of-a-kind items available such as signed CDs and tour memorabilia. Check it out now here.
Celebrating 5 years of engaging music lovers, PledgeMusic has proven to be a valuable marketing force for bands and artists releasing music, playing an important role in driving sales and contributing to their overall achievements. Benji Rogers, Founder and President of PledgeMusic commented, "We are thrilled that P.O.D., who have enjoyed a strong fanbase for years, has chosen the PledgeMusic platform to further connect with their fans to release this special collection of songs."
PledgeMusic is the world's leading online, direct-to-fan music platform, offering artists a unique way to engage their fans in the music making experience whilst interacting with PledgeMusic's global community of music fans. Since its inception in 2009, PledgeMusic has worked with artists and labels to deliver high impact campaigns that provide exclusive engagement, incentives and content for music fans as well as new commercial benefits and revenue streams for artists and music labels.
PledgeMusic's platform has generated chart topping albums worldwide. Successful campaigns have included Lindsey Stirling, Interpol, OKGO, Mike Doughty, Echo and the Bunnymen, Imogen Heap, Lucinda Williams, Ingrid Michaelson, Slash, Judas Priest, The Libertines, Bring Me The Horizon, Ginger Wildheart, Ben Folds Five, Killing Joke, Emmy The Great and Rachel Yamagata amongst others.www.pledgemusic.com