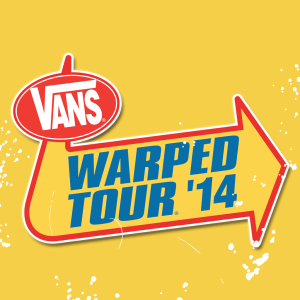 The Shiragirl stage which has featured Joan Jett and Paramore on past Warped Tour dates will be returning for select dates this summer. More information can be found below.
The legendary Shiragirl Stage marks a return on the 2014 Vans Warped Tour for a limited run of dates, including all the California dates as well as multiple East Coast dates. As part of the 20th birthday celebrations for the Vans Warped Tour, Shiragirl has partnered with Conquer Entertainment to once again provide a platform for emerging female artists.
Artists such as Joan Jett and Paramore have rocked the Shiragirl Stage at past Warped Tour dates. This year, female artists and female-fronted bands from across the country entered the Conquer Entertainment Shiragirl Talent Search. These artists were hand-picked to play the Shiragirl Stage on the 2014 Vans Warped Tour.
Conquer Entertainment presents the Shiragirl Stage on the 2014 Vans Warped Tour
June 20 – Pomona Fairplex – Pomona, CA
June 21 – Shoreline Amphitheatre – Mountain View, CA
June 22 – Seaside Park – Ventura, CA
June 25 – Sleep Train Amphitheatre – Chula Vista, CA
June 26 – Sleep Train Amphitheatre – Wheatland, CA
July 6 – PNC Bank Arts Concert Center – Holmdel, NJ
July 8 – Darien Lake Performing Arts Center – Darien Center, NY
July 9 – Toyota Pavillion – Scranton, PA
July 10 – Xfinity Center (formerly Comcast Center) – Mansfield, MA
July 11 – Susquehanna Bank Center – Camden, NJ
July 12 – Nikon at Jones Beach Amphitheater – Wantagh, NY
Aim Your Arrows – 7/8
Amber Stowell – 7/8
Blackbird – 7/6-7/10, 7/12
Blameshift – 7/9-7/12
Blair La Rose – 6/26
Candy Hearts – 7/6-7/9
Death of Paris – 7/9
Go Betty Go – 6/20, 6/22
Go Big – 7/6
Hunter Valentine – 7/6-7/12
Jackknife Stiletto – 7/9
June Divided – 7/11
Jenni Spiro- 7/11
Justina – 7/6-7/9
Kaleido – 7/11
Kiirsten Marilyn – 7/12
Light Up the Eyes – 6/20, 6/25
Miracle Dolls – 6/20, 6/22
Melanie Lynx – 7/10
Mourning Lilith – 6/21
Q Baby – 7/12
Queen Caveat – 6/20, 6/22
Romance Mechanics – 6/21-6/22, 6/25
Romantic Rock Fashion Show – 6/25
Sara Laketa – 7/10
Sharkmuffin – 7/6, 7/11, 7/12
Stop the Presses – 6/25, 6/26
Shiragirl – 6/20-6/26, 7/6-7/12
Survival Guide – 6/21, 6/26
The Swank Masters – 6/26
Turbulent Hearts – 6/20-6/22, 6/26
Varna – 6/21-6/22
Wasi – 6/21, 6/25
You Only Live Once – 6/20, 6/25-6/26