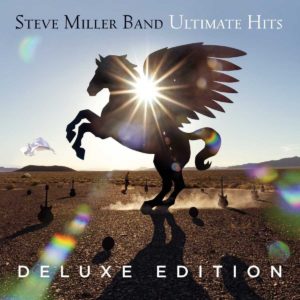 If you missed the first review for Ultimate Hits disc one, you can read that here.
Kicking off disc two of his Ultimate Hits collection with the song "Wild Honey," San Francisco act Steve Miller Band continues to impress, not only with their natural talent, but with how fresh their music remains after 41 years, when "Wild Honey" was released on the record Fly Like an Eagle. Following with a demo of "Take the Money and Run" off the same record, front man Miller is a master at writing simple tracks that stand the test of time. Always telling a story with his music, Miller has not only become known as a great musician, but a storyteller that keeps songs exciting, with lyrics that are vivid.
Tracks such as "Jet Airliner" begin with an infectious riff that only musicians like Miller can pull off. While Miller may be best known among the older generations, there's no denying that he and his band can win over younger music fans as well, as his music's timeless quality becomes apparent immediately. Numbers like "Swingtown" gives a groovy vibe to Ultimate Hits and is another catchy addition to music playlists. Going further into the 70's, this is the second track featured from the group's 1977 LP Books of Dreams. The release's second biggest hit after "Jet Airliner," Miller feels unstoppable, cementing himself as one of the Bay Area's best guitarists, back then or in today's music industry.
"Italian X-Rays" is up next and by this point in the collection we feel a shift in sound and style. Included on Miller's 1984 record of the same name, "Italian X-Rays," uses synths to convey the track's bouncy style. Highly innovative, Miller was always able and willing to experiment with the times and whatever decade he was playing in, leaving fans with fresh new sounds. "Don't Cha Know," is a previously unreleased track that heads back to his bouncy guitar work that we heard on previous songs throughout both discs.
Closing the Ultimate Hits collection with the tune "Behind the Barn" from the 1986 record Living in the 20th Century, the song is a memorable one, with a harmonica line that pulls the song together as Miller goes back to his rock roots, creating timeless music that sounds amazing today. While The Steve Miller Band released four more albums that were not included on this double release, overall it gives fans a decent overview of their long career, highlighting musical instincts and ideas that fans will eat up.
Listen to "Jet Airliner" below.