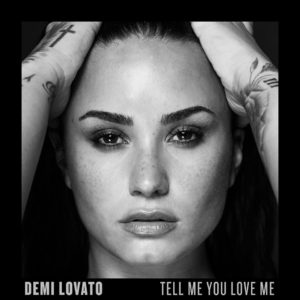 Following up her 2015 album Confident with Tell Me You Love Me, Demi Lovato has hit fans with a polished pop album that is her best work to date. While Lovato could sing on previous albums, it felt like the music was pointing to a certain demographic, but on Tell Me You Love Me, each song's large appeal is what makes the record stand out. Opening with "Sorry Not Sorry" Lovato sings with confidence, coming a long way from her days of Camp Rock with The Jonas Brothers. Belting out the lyrics with a fiery boldness that reminds fans of vocalist like Adele, "Sorry Not Sorry" is a strong opening tune to a record that is only supposed to appeal to teenyboppers, though on this LP older fans could hop on board.
Coming up as the third track is "Sexy Dirty Love," another confident tune with a pulsing beat and bass line, as well as a chorus that becomes lodged in your brain, it will be interesting to see where Lovato heads as she approaches her 30's in the next few years, as she could definitely keep up the dance influenced sound if she wanted to. "Daddy Issues" is another banger and while it discusses the tendency to date emotionally unavailable men, its upbeat enough to where it gets stuck in your head, as well as being relatable.
Songs such as "Games" keep going down the same path as the rest of the album creating another potential single for the singer, as fans will continue to sing along to every word. Ending Tell Me You Love Me is an acoustic tinged track titled "Hitchhiker," a carefree end to a slick album, solidifying Lovato as a vocalist with talent that will continue to be relevant in the years to come.
Listen to "Sexy Dirty Love" below.