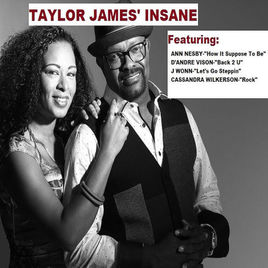 Mississippi born musician Taylor James, grew up with music being a constant presence in his life. He became a musician at the age of 15 and began writing and composing his own songs just two years later. While in college, he released two singles titled "Christmas" and "Are You Ready" and performed with the group Wynd Chymes all over the southern region of the United States. He also released his debut album No Way Out during his time in university and recently dropped his second effort Insane, an LP consisting of nine romantic and catchy R&B tracks that will encourage diehard R&B listeners to turn up the volume.
Opening with "Back 2 U," James has chosen the records strongest tune to open with. With a sound that can easily find a place on mainstream R&B radio, everything about the track sounds fresh and new. With a slightly older flavor than most current R&B tunes, "Back 2 U" strikes a balance between being hip and cool and being representative of the genre's classic sound, which is done well.
Insane's fifth track "Let's Go Steppin" sounds reminiscent of Boyz II Men in the group's early years. With a throbbing beat and fantastic vocals from Taylor, the songs disco and jazzy sounds bring the tune to life and give it a sizzle that makes James stand out. With an appearance from vocalist J Wonn, this is a song that Taylor's audience won't be forgetting.
Closing with "How It's Supposed To Be" is another disco infused number featuring another guest appearance, this time by vocalist Ann Nesby. Providing powerful female vocals (a continuous pattern among the guest appearances on Insane,) "How It's Supposed to Be," is a great addition to the record and a perfect song to end the LP, making James' listeners into instant fans.
Listen to "Back 2 U" below.