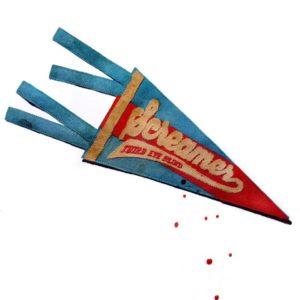 Known for such hits as "Semi Charmed Life" and "Jumper," San Francisco rock band Third Eye Blind is back with their new album Screamer. Making and releasing music for over 20 years, Third Eye Blind has written some brilliant singles, however there's never been much in the way of memorable tracks that weren't singles, however that all changes on Screamer. On the band's sixth effort, they come busting through the 90's era with not only creativity, but some serious chops in their performance. Collaborating with fellow 90's hit maker Billy Corgan of the band Smashing Pumpkins (a first for the band,) the group has written 11 top notch tracks that make up an album of some of their best work to date.
Opening with the LP's title track, Third Eye Blind prove that they still have what it takes to be successful almost immediately. Front man Stephen Jenkins proves himself to be a great vocalist on this song, coming in crisp and clear. Whether you've known about the group since their formation in 1993, or you've just the discovered them today, Screamer offers plenty for fans old and new. For those looking for a dose of nostalgia, the record offers the same catchiness and infectiousness as "Semi Charmed Life," while bringing an old twist to today's current musical offerings, becoming the rock band you won't want to sleep on.
With songs such as "The Kids Are Coming To (Take You Down,)" and more laid back tunes such as "Got So High," the band creates two bookends on Screamer that brings their writing and performance talents to life, by giving fans something they can sink their teeth into while also being able to roll up their sleeves and chill.
Ending with an acoustic version of "Who I Am," the band strips itself down to their bare bones and creates an ending to an album that couldn't be more perfect. Starting off hard and biting, while ending with soft and subtle tunes, Third Eye Blind is perhaps one of the most underrated bands in music today.
Listen to "The Kids Are Coming (To Take You Down") below.