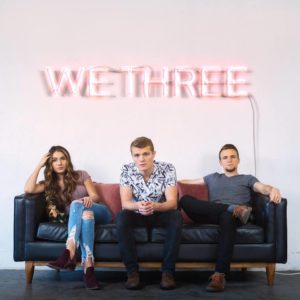 Making their national debut earlier this year on America's Got Talent, sibling band We Three (comprised of Manny Humlie on guitar, Bethany Blanchard on bass, and Joshua Humlie on keyboards and drums,) the McMinnville, Oregon based trio have released their self-titled debut album.
Auditioning in front of the judges with their highly emotional track "Heaven's Not Too Far," a touching tribute to their mother who passed from cancer two years ago, it was immediately obvious that the siblings had something special. Performing the song completely live is a rarity for the audition section of the show, though the band's audition went off without a hitch, leaving the audience and the judges moved to tears. With their first collection of music finally here, We Three performs the same feel good and emotional pop music that they did America's Got Talent before being voted off after three performances.
The siblings grew up around music as their dad played in his own family band, in addition to starting a music school called the Humlie School of Music, opening in 1999 with hundreds of alumni and a current staff of 13 teachers (all three Humlie siblings teach at the school.) We Three have performed at local area churches, community centers, McMinnville's own Brown Bag Concert Series, festivals, among other appearances.
Opening their debut with their second AGT song "Lifeline," We Three shows off guitarist and youngest sibling Manny and his natural front man abilities. Proving that he can front any band without hesitation, we are immediately drawn to the group and the impression that they leave, which is strong.
Next is the studio version of "Heaven's Not Too Far," and while it will soon become known as the trio's biggest hit (and perhaps their most impactful,) hearing the studio version in full can only be described as moving, particularly if you have lost someone to cancer. On this track we hear vocals from Joshua and Bethany, that adds a feminine touch, adding to the songs beauty.
Tunes such as "Fall for You," is the typical head over heels love song about loving someone from afar without knowing if the feelings will be returned. A John Mayer style ballad, the trio has once more crafted the perfect pop song. A great track that pulls you in, "Fall for You," makes you feels like you are listening to the siblings perform live.
"Sweater Weather" is another tune that we can't get out of our heads. With a hypnotizing guitar riff from Manny and vocals from Bethany, we find ourselves humming the chorus of the song and putting it on repeat.
Closing with the radio version of "Heaven's Not Too Far," is a bit of letdown, despite its rising popularity. While its unknown why the band decided to end their debut in this way, we wish that they had placed another new and unheard song at the end, so that the band doesn't rely too much on "Heaven's" instant success. Despite this small flaw, We Three exudes a connection that won't be going away soon.
Watch the music video for "Heaven's Not Too Far" below.