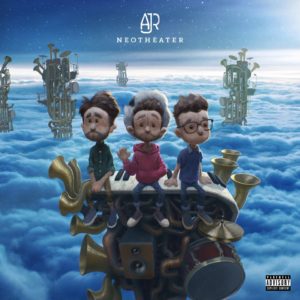 On their latest album Neotheater, New York based sibling trio AJR has employed the same playful sound that made them a quick success, and on their earlier album The Click, which dropped in 2017, the group released songs that made you turn your head and listen, though on Neotheater, that rarely happens.
Opening with "Next Up Forever," a chorus opens as if the band is putting on a theater production, leading listeners to believe that Neotheater is going to be grandiose and vibrant. Relying heavily on the electronic pop sound that made them popular with millennial's and Generation Z, AJR has written an opening track that isn't particularly memorable, and as it sets it tone for the rest of the LP.
"Birthday Party" is Neotheater's third single after "100 Bad Days," and it combines AJR's adventurous electronic sound with their creative lyrics. Sounding like the group's original style, it's one of the LP's strongest numbers. "Don't Throw Out My Legos" is next and its vaudeville like introduction points to where AJR are going in the future. Longing for their childhoods, the brothers talk growing up for the first next time, while hoping that their young fans will go along for the ride with them.
"Finale (Can't Wait to See What We Do Next,") closes out Neotheater and while the trio has some decent ideas going for them on this latest body of work, this is the LP from AJR that doesn't excite like their debut Living Room or The Click did. Relying a little much on what made people fall in love with them, Neotheater feels a tad overdone and more of the same.
While the group has succeeded at utilizing the same sound for the past five years, we hope that on their next record, they challenge themselves to push the envelope and go places they've never considered going.
Listen to "Don't Throw Out My Legos" below.