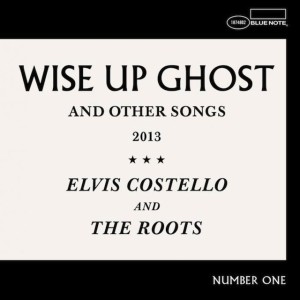 A collaboration album can either be good or bad depending on who the artists are. Seasoned music veterans Elvis Costello and hip hop-soul band The Roots have collaborated together to create Wise Up Ghost. It is a record filled with hip hop and rock songs that at times sounds brilliant, thrown together, and downright boring all in one. With forty-three years of being a professional musician under his belt, fans and critics are used to Costello going in different directions with his music. From releasing his debut album My Aim is True in 1977 to Wise Up Ghost, Costello has remained relevant in music and his albums have done well.
The Roots have been releasing music since 1989, as well as being the backing band for many artists, as well as taking on the role of house band on the Jimmy Fallon show in the United States.  As a band they play tight grooves and licks that keep people listening.  While they function largely as a hip hop and soul band, these outside the box collaborations display their diverse range of musical skills as the band can adapt to more than one genre.  While both Elvis and The Roots are very talented, Wise Up Ghost presents an odd pairing, and while certain songs work well, others sound dry and merely function as filler.
The records opening track "Walk Us Uptown" has an urban feel, complete with a car horn blaring, and a tasteful drum beat from Roots drummer Questlove. Elvis's dry and raspy vocals give the song a laidback feel that makes Costello distinctive. Not overly fancy in its sound, "Uptown"… will give hip hop the credibility it lacks among its critics. "Refuse To Be Saved" is a funk track with drum beat and bass line that guide the song. Staying true to their recent music projects, The Roots provide great backup for Costello to explore his ideas. Allowing his creativity to flow, "Refuse To Be Saved", is a catchy track, and is one of the strongest on the album.
"Stick Out Your Tongue" and Come The Meantimes", are two songs that don't particular fit the rest of the album. The peppy feeling that we hear on previous tracks is not present in either of these songs. After hearing the other songs, both of these tunes don't fit the overall feeling of the record. Wise Up Ghost feels like one long jam session, and if Costello or The Roots had not been a part of the project, it probably would of spelled disaster; since sometimes collaborations can go poorly due to different genres and directions. Though due to both collaborators longstanding careers in music, what we will hear next hopefully will be better than this album. If you are a big fan of either The Roots or Elvis Costello, you will probably enjoy this album, but if you are a more fair weathered fan, chances are you should stay away from Wise Up Ghost.