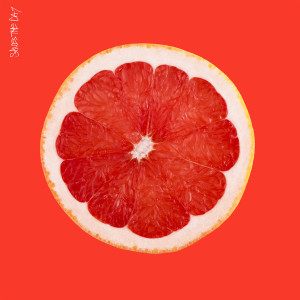 A grapefruit with a bright orange background is the new album cover for east coast rock band Saves The Day. While the bright background could be hard on the eyes for some, the grapefruit is fitting for the band's latest album. The band explains the meaning behind the grapefruit on their Tumblr page. "It's been referred to as #grapefruit and we're okay with that. It makes sense. Every fruit is given life via its roots. The roots may seem tethered to Earth but it is in the act of reaching skyward that they branch out, flower, and create something new." By branching out and creating something new, Saves The Day has gone on a new path with their new album which has a much happier tone, and unlike their previous albums, their songs don't have a somber feel this time around. On this record the musicianship has improved, bringing in a more rock and roll edge, while still not forgetting their punk roots. Formed in 1997 during their high school years, Saves the Day started off as a band with promise. Their first few albums Can't Slow Down, Sorry I'm Leaving EP, and Through Being Cool were strong albums that led the band in different directions with their style for each album, causing them not to release the same thing twice.
 It wasn't until their third album Stay What You Are that their success would finally start to pay off. The album's hit single "At Your Funeral" brought the band mainstream success as well as major label record deal with Dreamworks Records. It seemed like the band would be around for a good while. The band's first release with Dreamworks titled "In Reverie" took on a more somber tone, and was not a hit with Dreamworks and left fans divided on their opinion of the album.  As a result the band was dropped from their label after Dreamworks was bought by Interscope Records.
Three albums later, Saves The Day has a new and ever changing lineup, with lead singer Chris Conley being the only original member since the band formed fifteen years ago. The band's self titled album is a pop record that brings some of the band's old sound back to life. Very guitar driven, Saves The Day, has guitar riffs that drive each song. While changing band members can have a negative on a band, for Saves The Day it actually helps them. By constantly bringing in musicians that have different abilities and musical tastes, the music can evolve so fans stay interested and don't feel like every song sounds recycled. The first song, "Remember" opens the album and is one of the more colorful songs the band has written. The guitars from Chris Conley and lead guitarist Arun Bali are sharp, and is a nice set up for how the rest of the album will sound.
"In The In Between" has a catchy chorus that pops out of the song, with a guitar solo that puts the tune into overdrive. Conley has a high vocal range, and on this record he has a more nasally sound to his voice, sounding a little bit Billy Corgan from The Smashing Pumpkins, who also has similar nasally vocals, while also having a high vocal range. While Saves The Day spells growth for the band, the only negative thing about the album  is "Ring Pop" which is towards the end of the song. "Ring Pop" has a power pop feel complete with cheesy lyrics. With lyrics like "might of made us a pair of zen-like two-year olds with a couple of ring pops/no need to propose", it is hard to take Conley's writing seriously. With a strong ability to write lyrics, Conley has let this critical component of songwriting slide. Knowing the kind of quality lyrics that he has written in the past, it is disappointing that he came up with something this immature and fluffy. After fifteen years, Saves The Day proves that the band and its latest album are still fresh in the minds of fans, and any music they write from here on out will hit the spot with their fans.