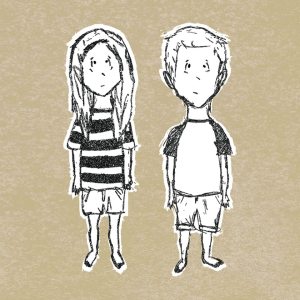 In 2011, Fossil Youth was formed in Oklahoma when front man Scottie Noonan wanted to bring his vision of a perfect band to reality. Earlier this year, the punk-indie group released a split EP with the Wickerwolves, and now they are soon to release their own EP titled Intertwined With You in February of 2015. Right from the start, fans of the indie-punk genre will see that the band is very talented, however the EP itself has a few shortcomings. Intertwined With You opens with "From The Window" a gripping and emotionally charged track that will get listeners instantly hooked. Noonan gives an emotional vocal delivery that will remind some listeners of the emo fad back in the early 2000's with its relatable lyrics and heavy sounding tunes. Next on the EP is "Silver Tongue", and it is a slower sounding tune than "From The Window." While the song still has the same sound as its predecessor, it doesn't grab the listener immediately like "Window" does, and the more depressing tone of the lyrics makes the band fall into a trap of sounding too similar to other groups.
"Wick" is Intertwined With You's third track, and by this point in the EP, each tune tends to blur together, and it would be interesting to hear what the group would sound like if they made each track on the EP sound different and more varied, leading the band to appeal to more people, rather than just those music fans who gravitate towards Fossil Youth's preferred genre. Lastly, the EP's title track closes out the record, and while the tune would not be considered a ballad, it is by far the slowest song we have heard on Intertwined With You. While the track is still heading down the same path as the EP's previous cuts, the only complaint with the song is in its sound. The crunchy guitar sound is something the group obviously loves, though on "Intertwined With You" the guitars seem to overpower the rest of the band, leaving the song feeling unbalanced and muddy.
Overall, Fossil Youth are a very talented band that will go far, but it may help them to go even further with their music if they try different things with their songs to make them really stand out.
Intertwined With You will be released on February 3rd, 2015.