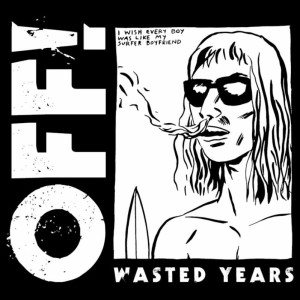 Wasted Years by Los Angeles hardcore punk super group OFF! delivers its songs in quick succession in a fast and punchy fashion. The band was formed in 2009 after members of Circle Jerks, Black Flag, Burning Bridges, Redd Kross, Rocket From The Crypt, and Hot Snakes decided to come together after a recording of a Circle Jerks album fell through. The band made its first appearance in 2009 at the South By Southwest music festival in Austin, Texas. While each member of the group has performed in bands for over two decades, their latest project demonstrates that they are very good at what they do: delivering fast punk songs that don't let you focus on one song for too long (as no song goes over the 2:15 mark), and lyrics that aren't too deep but can still offer the challenge authority attitude associated with hardcore punk.  
With the opening track "Void You Out", guitarist Dimitri Coats plucks his guitar string once to let it ring out, only to have the band launch into a song that is quick and a bit dirty sounding. The song sounds muddy and the instruments blur together, as the album's opening track is only one minute and ten seconds, though this will not deter fans from listening further, as that is a typical sound of a hardcore punk band. Vocalist Keith Morris shouts with a passion and abandon that only a hardcore punk band can pull off. The song has no frills and plenty of rough edges, and OFF! sets up this atmosphere perfectly. Songs like "Death Trip On The Party Train" feel very much like "Void You Out" except for the more complex and shredding guitar solos that reassure any naysayers that the band can actually play. "Mr. Useless" is a song that lasts for one minute and eight seconds while packing a tight punch, with a jarring guitar part and a drum beat that creates a real racket. The great thing about OFF!  is that each song stays one hundred percent true to the genre that has supposedly been dead since the demise of legendary bands like The Ramones and The Sex Pistols.
Wasted Years is a strong album within its genre. While it's hard to give punk rock music a second chance if you didn't like it the first time, OFF's! new record will please fans that have been with the band since its debut or as long as its members have been playing music.