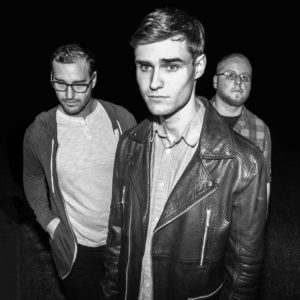 Hello Stranger, the latest band to come out of the Los Angeles music scene, has released their debut LP Long Division, an 11 song album that shows a group on the way to making a name for themselves outside of Southern California. With the band forming in 2015, front man Sam Deffenbaugh sounds like he has been performing in front of crowds for years.
Opening with the hard hitting track "The Flood," the trio which is also comprised of Sam Plotkin on bass and vocals, and Daniel Rodriguez on drums, both demonstrate that they can play well, making great use of their musical skills throughout the song. With powerful and memorable riffs, "The Flood" has lyrics that will become stuck in your head, as Deffenbaugh's voice hypnotizes listeners. Tunes such as "Breakthrough," is another smooth track that is slightly darker and moodier then "The Flood," while keeping with its indie pop flavor. Plotkin is the member who really shines on this song by taking the reins, leading Deffenbaugh riffs and Rodriguez's beats to gel together seamlessly, making the song one of Division's standout numbers.  
"We Don't Talk About Them," is Long Division's eighth track and is the record's slow track. With Deffenbaugh's haunting voice, we love that the group is stretching their wings and trying to write slower tunes, showing their depth and style in different time signatures. 
Ending with "Victorious," Hello Stranger is a group that everyone should watch out for. In a scene like Los Angeles where its often hard to stand out, Long Division includes a few radio worthy songs that very well may make it on KROQ one day. Until then, the band should keep at it, releasing new music whenever they can. It may one day pay off, just the way they want it. 
Listen to "The Flood" below.