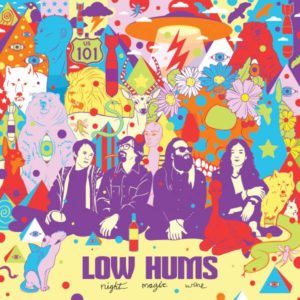 Seattle has a new psychedelic band by the name of the Low Hums, who have dropped their latest effort Night Magic Wine – a ten song LP that will throw fans back to the 60's while still adding a bit of modernity that makes the record entertaining and fun. Opening with "In the Spin," listeners will immediately get a sense that the band is highly skilled, while making music that sounds like a tribute to decades past. Sanoj Sniksah and Miles Panto are adept guitarists that spread their bright riffs across the entire record. Sniksah nails it on the vocal end too, giving off hazy melodies that fit right in the bands vintage style.
Wine's fifth number is "Reprise of the Vampire Girls," a mid-tempo tune that has a slight country feel while still maintaining the bands delicious psychedelic flavor. While many psychedelic inspired bands can often compose songs that sound similar, the Low Hums do an excellent job fine tuning their sound so that each track stands out as an individual work, while avoiding the issue of each number bleeding into each other, creating the feeling of one long continuous work.
Songs such as "Victorian Work," pick up the tempo just a bit, veering towards the edges of hard rock, while keeping with a pop influence sound. Playing almost a surf influenced riff at almost two minutes in, the band blends genres well throughout the LP, keeping the fans entertained and the group creatively satisfied. Closing with "Sunflowers of Doom," the Low Hums play extremely well with their creativity seeming endless as they have written an album that engages and flows well, creating a dedicated fan base beyond the Seattle music scene. While the Low Hums may not be on national stages yet, they should be, as Night Magic Wine is a body of work that no one should miss.
Listen to "In The Spin" below. Night Magic Wine is out now on Union Zero Records.