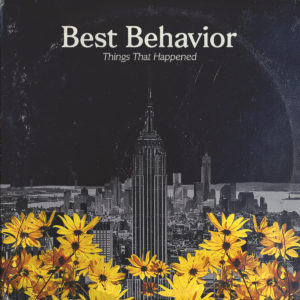 On their new EP Things That Happened, Brooklyn four-piece Best Behavior take their fans back in time with groups such as The Kinks, Velvet Underground, and The Beach Boys as influences, creating a sound that feels timeless. Opening with the title track, vocalist Alex Gruenburg carries the band effortlessly while members Jon Mann (guitar,) Chris Jimenez (drums,) and Daniel Jacobson on bass make the group's sound addicting and memorable, with simple parts that feel engaging and raw. Releasing their debut LP Good Luck Bad Karma in 2015, the quartet has been praised for their older feel and on Things That Happen, this flavor falls perfectly into place as the band continues to mold their style.
"As I Wait" begins with a sugary guitar riff and minimalist bass line that drives the song, while easily becoming a popular tune during live shows as it has a sound that nearly everyone will dig. Taking cues from bands such as The Beach Boys on this tune, Best Behavior's surf tendencies translate well into today's indie saturated market.
Songs such as "Say" feels a bit like the group is channeling The 1975 when the band dropped their self-titled debut in 2013. Giving the guitar parts a bit of a funky feel, Best Behavior turns into a band you should not miss listening to this year as their songs become universally appealing with each spin. Closing with "Catherine No Chaser," it's not one of the better songs on the two-short release – though its sticks with the image the band is trying to portray, playing music that nods to their elders, while trying to engage today's young audience.
Everything is light and fresh on Things That Happened and the group's fun sound should not be skipped over, no matter where your tastes lie.
Watch the music video for "Say" below.
Featured photo by Anthony Mulcahy