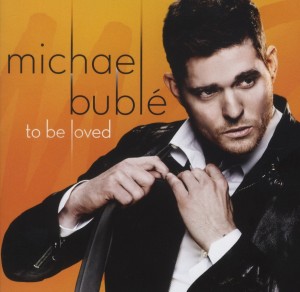 "Fun, love, happiness, and yummy things" is how Michael Buble describes his latest album To Be Loved, which is the perfect way to describe it. Every song has a happy vibe that makes a connection with the listener that they won't be able to shake, and Buble's smooth and powerful voice will stay with his audience long after the record ends. Born in Canada, Michael dreamed of becoming a singer from early childhood, but his singing was not discovered until age thirteen, when his family was singing "White Christmas" during a car ride. His love of jazz began at an early age, and To Be Loved brings those early influences to the forefront.
While the album takes influences from historic performers such as Frank Sinatra, To Be Loved still has a contemporary feel that will resonate with any age group. The album's lead single "It's A Beautiful Day" sounds like a Glen Miller tune, full of horns and piano that gets people off their feet and onto the dance floor. While listening to the song, the 1940's come alive, as Michael performs as if he is a seasoned jazz artist from another era. Michael's cover of "You've Got A Friend In Me" is just as good, if not better than the original version written by Randy Newman.  Simplistic and beautiful, Buble handles the song with passion and a radiance that makes his voice so likable.  "Something Stupid", featuring Reese Witherspoon is by far the weakest track on the album, in part because of Witherspoon and her lackluster voice, which is stripped of any emotion when put against Buble's voice. 
Tunes such as "To Love Somebody" takes a more carefree approach with a simple drum beat and strings that allows the listener to forget their troubles and focus on the music.  This is the only song where the accompaniment of background singers actually works, as the gospel tone of the vocals matches melds with Michael's voice when it comes to quality and emotion, with the singers projecting a jovial feeling throughout the song.
From start to finish, To Be Loved will transport Michael's audience back in time to the days of jazz and swing, while they become wrapped up in the music whilst experiencing the fun and love that Michael wants to express to his listeners.