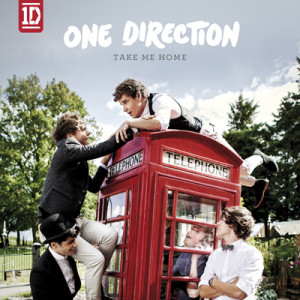 Boy bands have once again made a re-entrance into the music industry. Much like the Backstreet Boys and N'sync nearly a decade ago, One Direction is currently the latest trend in manufactured bugglegum pop. As one who grew up in the era of the latter groups, I never appreciated either group's obvious vocal abilities until recently. But as a current music business major, I can see the talent of One Direction no matter how sappy and flash in the pan their songs may sound. One Direction, who hails from England and Ireland, came together after all five members (Niall Horan, Liam Payne, Harry Styles, Zayn Malik, and Louis Tomlinson) all auditioned individually on the British edition of the X Factor.
            After listening to their latest effort Take Me Home, I can say that all five members show promising talent, both in the studio and live, and it seems that their creative team took great care to make sure they produced songs that are undeniably catchy, while trying to pack as much appeal, whether it be musical or sex, into the group so their target fan base which is made up of preteen and teenage girls, will eat it up. And eat it up they did, with Take Me Home sitting currently at number four on the Billboard 200 after its release on November 3rd.
Even due to their wildly successful debut album, Up All Night their newest batch of tunes is not without the typical boy band drivel that we've heard from boy bands past. The first track on the album "Live While We're Young" is a carefree tune that kicks off the album with a burst of energy that will give their young fans an adrenaline rush. "Kiss You" is definitely single worthy, with enough bounce to keep even some adults interested, but not enough to keep listening to the rest of the album. "Little Things", the albums second single, has enough teenage hormones and relationship sappiness packed into three minutes to make the young girls cry, but showcases the group vocals in a favorable light.  "Heart Attack" is one of the strongest songs on the album, worthy of keeping iTunes repeat button on permanently, since it's nearly impossible to get the chorus out of your head. This song hits home exactly with what the music industry set out to create when One Direction signed on the dotted line.  Songs such as "I Would" are purely filler, and serve no purpose other than to fill up space to consider the record an LP. "Back For You" is a catchy song with a catchy chorus that leans towards being strong with the pulsing beat, but after listening it can get a bit boring and dry.
            While the bubblegum pop acts of the past have had great success in the 1990's and early 2000's, teenage tastes have changed dramatically, and it seemed like today's generation were not interested in hearing a vocal group on the radio. It seems that One Direction has changed the minds of teenagers. The next year can shoot them towards long lasting fame or rocket them into oblivion. I guess teenage girls will decide.