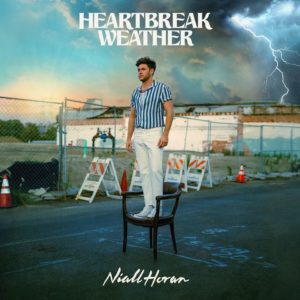 10 years after his audition on the UK X Factor, Niall Horan has released his second solo album Heartbreak Weather, after dropping his debut Flicker in 2017. Spending the five prior years in the boyband One Direction, Horan was well schooled in how to perform and release music – though we never saw much about his own individual tastes. On Flicker we saw Horan jump into the waters of folk and 60's and 70's inspired rock songs, with the LP having a heavy Eagles influence alongside a tinge of Fleetwood Mac. A refreshing take on the usual unknown dread of a boy band solo debut, Flicker was an impressive debut that had critics looking at Horan in a positive light.
Now on Heartbreak Weather, we get a departure from the quieter sounds of Flicker and we hear Horan diving deep into the 80's – as the singer-songwriter hailing from Mullingar, Ireland follows the trend of the last few years. Opening with the title track, the track has the signature Horan catchiness leaving fans excited to hear more. "Black and White" is up next and the track demonstrates Horan's knack for storytelling as he visualizes a relationship heading for the long term. Telling the story of falling and love and growing old together, Horan creates a visual representation of why his music is so good. Not only is it memorable, but the whole song and all of its aspects pulls at the heart, making the tune one of the album's strongest selections.
Songs such as "Nice to Meet Ya" and "Put A Little Love on Me" showcases Horan's fun and sensitive sides as he dabbles in Oasis style pop and piano laced heartbreak songs as he talks of regret when a relationship ends. At the album's release, Horan told fans to listen to the record in the order of the track listing since each song tells the story of a relationship from beginning to end, and regardless of who the lucky girl is, it's clear that Horan went through plenty of ups and downs, and Heartbreak Weather is obviously the way that Horan releases his emotions best.
Ending Heartbreak Weather is an acoustic track titled "Still," and while it gets stuck at the end of the album, it is the album's best track from a style perspective. Fans are reminded of Horan's past love of folk, while anyone just being introduced to Horan and his solo music will become immersed in his artistry, and after listening to "Still" it will be hard to look the other way. While second albums can often be game changers for an artist's career, due to needing a more evolved sound, Heartbreak Weather is an LP that can be consistently played, and its bold moves keep Horan moving in the right direction.
Watch the music video for "Black and White" below.