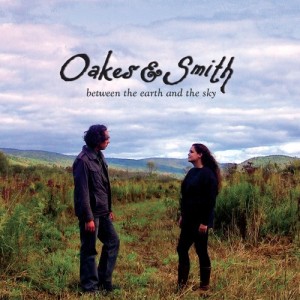 Massachusetts folk band Oakes & Smith have released a tranquil and calming new EP titled Between The Earth and the Sky, perfect for fans of folk greats Joan Baez and Joni Mitchell. Based in The Berkshire region of the East Coast, the duo which includes Katherine Smith and Robert Oakes, have written beautiful folk inspired tunes with stunning vocals and an undeniable chemistry that reminds us of now defunct Nashville duo The Civil Wars. Performing pitch perfect harmonies is what Oakes & Smith do best and it is by far the most stunning aspect of their latest effort.
Performing in musical homes and environments all of their lives, the musical team have chosen the right profession, as their talent and passion for folk music is immediate and gravitating. Releasing their first record in 2013 titled First Flight, the duo is well on their way to becoming well known folk musicians. Opening with "So Beautiful", the band introduces us to their music by choosing a relaxing opening tune that acquaints us with Katherine's serene voice, with gorgeous overdubbed vocals that move us from the first few notes.
Once Robert joins Katherine on vocals, we immediately know that they are the perfect partners for their musical venture. The decision to use more classical instruments on their songs was also a good choice as it creates a certain beauty that modern instruments can't produce. The records third track "Never Let The Light Die" is a pop driven track with the group's folk style remaining intact, letting them try out new directions and sounds, allowing Between The Earth to have a little bit of diversity to it. "Closer To Home" featuring musician Jon Anderson of the band YES on vocals, gives the EP a peaceful feel that Smith & Oakes want to illustrate to their audience, while also releasing an EP that's hard to dislike since it has likeable qualities that stay true to the bands folk roots, while branching off and trying something new without pushing the envelope too far.
You can listen to "Closer To Home" below.