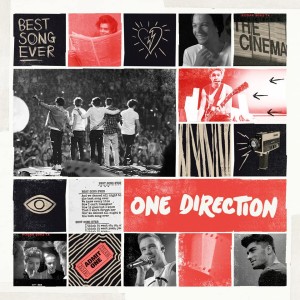 Maintaining the momentum is important for a group like One Direction. After their failed auditions as individual solo artists on the British edition of the talent show The X Factor, all five members were placed in a group, and the band gained popularity not seen since the days of N'Sync and The Backstreet Boys in the 1990's and early 2000's. While the career of a boy band is generally not a long one, One Direction shows no signs of slowing down, whether it is in popularity or their music. A month before their movie This is Us hits movie theatres around the world, the group has released "Best Song Ever", a song that will appear on the soundtrack to the movie. While it is not the "best song ever," One Direction has still done an excellent job on the track.
When the group's first album Up All Night was released in 2010, the boy band concept was revitalized. This time around the cheesy dance moves of boy bands past are absent, while putting a spin on the music by using a live band on their albums as well their live shows. "Best Song Ever" still sounds like an overproduced pop song, but their backing band featuring guitarist Dan Richards, bassist Sandy Beales, drummer Josh Devine, and keyboardist Jon Shone bring in the much needed band feel that One Direction needs to succeed, as the dance routines and synthesized dance music of N'Sync and The Backstreet Boys is now outdated. By playing with a live band, One Direction sounds more authentic as a group even though One Direction do not play instruments themselves (with the exception of member Niall Horan who plays occasional guitar during live shows).
The song has a rock and roll feel that we have not heard before from the group and this gives One Direction a much cooler and punchier vibe. The song also features solos from Zayn Malik, Harry Styles, Louie Tomlinson, and Niall Horan, with member Liam Payne singing during each chorus. While Harry, Louie, and Niall all shine vocally on this track, the member that stands out the most on this song is Zayn. Fans gets a taste of Zayn's range as he breaks away from the rest of the group during the chorus towards the end of the song, hitting the high notes beautifully and using his tenor range to its fullest. While many One Direction songs fail to differentiate between each member's vocals, on "Best Song Ever", each members voice is particularly recognizable if you are familiar with the groups past albums. With "Best Song Ever", we see One Direction moving in the direction of a rock band, while still keeping to the clean pop sound that made them so popular.
One Direction's 3D movie This Is Us will be released in movie theatres internationally on August 30th.