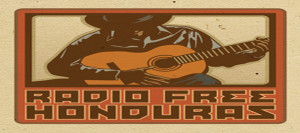 The debut self-titled album from Chicago Latin-folk band Radio Free Honduras is a vibrant and saucy record that captures the culture and flavor of Latin music, with songs that feature transplanted Chicagoland musicians originally from Latin America. The group is fronted by Charlie Baran, a guitarist and native Honduran, who was a prominent figure in the Honduras music scene, before settling in Chicago. In his home country, he was known for fronting the band Banda Blanca. While each song on Radio Free Honduras is sung in Spanish, the group manages to keep things interesting for the non-Spanish speaking listeners, as the audience can still fully experience the spicy sounds of the culture, as there is excitement to be found in every note.
Opening with "Vengan Vengan", Honduras begins with a catchy track that features a trumpet providing the songs main lick, pulling us in for a musical ride that is entertaining right from the beginning. Even though Charlie sings in his native language, his inviting voice allows us to sit back and take in the music, all while opening the door to his heritage. Right away, we can tell that every musician brings something to the table and that the band has a chemistry that is hard to find. Playing flawlessly together, we can't get enough of these lively tracks.
"Te Necesito" brings things down a notch, with soothing vocals from singer Paulinho Garcia, and while the tune's overall sound is very repetitive, its flow and presentation works well. Songs such as "Otra Cerveza" is a reggae inspired jam that gives the record a different angle, and while it goes in a different direction than the other tracks, it ends up flowing nicely alongside the other tunes. The band also changes up their sound a bit at this point, as they sound reminiscent of California band The Beach Boys.  While it's nice to hear that the group have mastered the groove of Latin music for those who are not familiar with the genre, knowing that the group can blend other styles and do so without any hang-ups, adds another element of likeability to the group and their album.
Lastly, "Cancion De Amor" closes out Radio Free Honduras by reintroducing the Latin sounds we heard at the records start, which gives the bands audience the urge to discover more of the groups future recordings. Magnetic and bright, Radio Free Honduras is a striking and spritely introduction to not only the band's music, but the culture that they hold so close to their hearts.
You can listen to a selection from the album titled "Vengan Vengan" below.