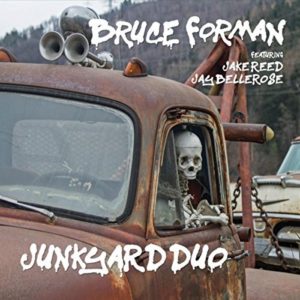 Bruce Forman, jazz band leader and musician, has released his new record Junkyard Duo. Having a long career in the studio as well as composing for film (his music appeared in three Clint Eastwood films, including Million Dollar Baby,) his latest body of work is comprised of 29 short tracks that experiment with different sounds and jazz elements. The LP is a unique ride that listeners of these different styles will enjoy immensely, while being noticed by the purists for its innovative approach and tasty stylings. Opening with the minute-long track "Click Click," Foreman introduces us to his mishmash of an album, with its soulful sound sucking us in immediately.
Numbers such "Freight Train" has a country twang to it as the record untangles different genres that clearly displays Foreman's love of music and his ability not only to play jazz, but as a creative that can successfully pull different genres together and make them groove seamlessly. Junkyard Duo's 12th song, "Crab Walk" has Foreman on the guitar, playing warm riffs that makes the music leap of the speakers.
Numbers like "Lemon Casa" bridge together jazz sounds with Mexican and Latin sweetness, creating a brilliant mashup of different styles and cultural seasonings, even though its subtle. Ending with the song "Whale I Needed Suite," is a six-minute-long tune (the longest on the LP,) that feels atmospheric and spacey. Getting lost in the sound of the record is what Foreman wants listeners to do on this song, while leaving his audience wanting to discover more of his music.
Listen to "Click Click" below.