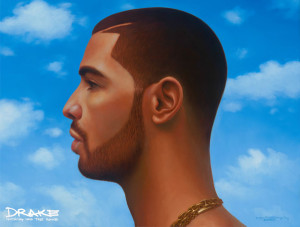 When Canadian rapper Drake released his debut album Thank Me Later in 2010 the then twenty-four year old was grappling with the sudden pressures of fame. While he seemed to be a bit unsure about his fast rise to fame, he seemed eager to set himself apart from the pack in hip hop. The records opening track "Fireworks" showed a more musical side of Drake, flipping the switch between rapping and singing.  An appearance made by Alicia Keys doesn't hurt the song either, and Drake's willingness to collaborate with musicians and not just emcee's, put Drake in a class of his own. His second album Take Care in 2011 featured hit song "Take Care", a duet between Drake and singer Rihanna. Inspired by a fling between the two, having Rihanna sing on the song gives the song beauty, along with a slightly dangerous flare. Making his music appealing is something Drake is good at, but on his third album Nothing Was the Same, Drake doesn't seem to have much growth musically.
On the first track "Tuscan Leather" Drake gets his audience up to speed with his life since Take Care. Rapping about the heights he has reached and how he is as famous as his mentor Lil' Wayne sounds cocky. Aside from catching his fans up with how his life is like currently, the song doesn't offer anything new to his fans. Songs like "Wu-Tang Forever" is a morose piano track backed by a drum beat that doesn't offer the anthem like power of the hip hop greats the song is named after. Talking of his ex girlfriends, Drake's vocal delivery is the most prominent feature of the song, and one may wonder what path his music would of taken if singing had been his first priority. The only thing that is puzzling about the track is its title. Labeling the song as a tribute to Wu Tang Clan, when it is about Drake and an ex girlfriend, could possibly allude to a past mutual love for the group. Songs like "Hold On, We're Going Home" is the album's most noticeable change. This departure in Drake's sound may lead listeners to question exactly where Drake is going with his music, since he places the song towards the end of the record, which until "Hold On…" the style remains largely the same. It sounds like he is channeling Marvin Gaye with this song's sound, as Gaye was a big influence on Nothing Was The Same.
"Started From The Bottom" is a largely autobiographical tune about Drake starting from nothing and coming up to where he is today. "Started From The Bottom" will hopefully bring some clarification to Drake's past, which he hopes to do through his music. Drake said about the track, "I feel sometimes that people don't have enough information about my beginnings and therefore they make up a life story for me that isn't consistent with actual events. I did not buy my way into this spot and it was the furthest thing from easy to achieve." A positive thing about the track is that he does not openly trash his friends or family members, but instead is honest about his life.
"Worst Behavior" comes up not even half way through record at track number six, we see Drake at his most aggressive, rapping over a scattered drum beat he raps about those in his life who have doubted him despite his success. Laying down his anger over the frantic beat, he gets to bring his emotions to the forefront, though its intensity seems a bit wimpy. "Worst Behavior" shows that while Drake's comfort with fame is settling down, his music is still new enough to call out his haters and bash them. Taking cues from hip hop's cockiest performer Kanye West, his rant of "mother fuckers never loved us", doesn't come off as strong as he would have liked. While Nothing Was The Same is an advancement musically, if Drake were to continue to write lyrics with his current subject matter, his time in the spotlight might grow stale.