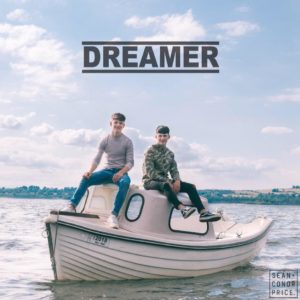 When Irish brothers Sean and Conor Price auditioned for the UK X Factor in 2017, they were largely unknown, despite having a strong following on YouTube and releasing their debut EP Change in 2016.Performing their own version of the Jimi Hendrix song "All Along The Watchtower," the brothers made sure the track sounded unique, complete with older brother Sean's rapping and 15 year old Conor's mature voice.  Getting four "yeses" from all four judges, the sibling duo went straight through to the live shows, only to be voted off a short time later.
Despite this setback, they continued to release new music, with "Be Like You," being their first single. Releasing their new mini album Dreamer last Saturday, after listening to the 19 minute "LP" its clear that the brothers are going places and shows like the X Factor have given them a platform to do so. Opening with "Be Like You," the track is a catchy one, with the chorus sung by Conor, which gets stuck in your head for longer than you realize. While the brothers perform pop rock tunes, it is Sean that makes the band stand out. On the song we are hit hard by his rapping skills, which were a welcome surprise in their X Factor audition, as his voice compliments Conor's well, as they both sound perfectly paired.
Tunes such as "Obsession," show a softer side to the brothers as they perform striking melodies, that we haven't heard throughout their short time as professional musicians. With acoustic guitars and a piano, we hope we hear more songs like this from the Price's as it demonstrates their talent for music and a genuine love for their craft. Numbers such as "Quit," is perhaps the best cut on Dreamer as it features a piano and an introduction from Conor that shows how beautiful his voice is, with the strongest aspect of Dreamer being how individual each song sounds, and how you never feel like you are listening to the same one twice.
Closing with "Redemption," we hear another unheard track, and while its not one of the album's stronger selections, we walk away feeling like we have listened to something special, and though we would have like to hear more unheard songs (as most of the album is comprised of work fans have already heard,) Sean and Conor Price are one of the best up and coming acts to come out of Ireland and following their journey is a must.
Watch the music video for "Quit" below.